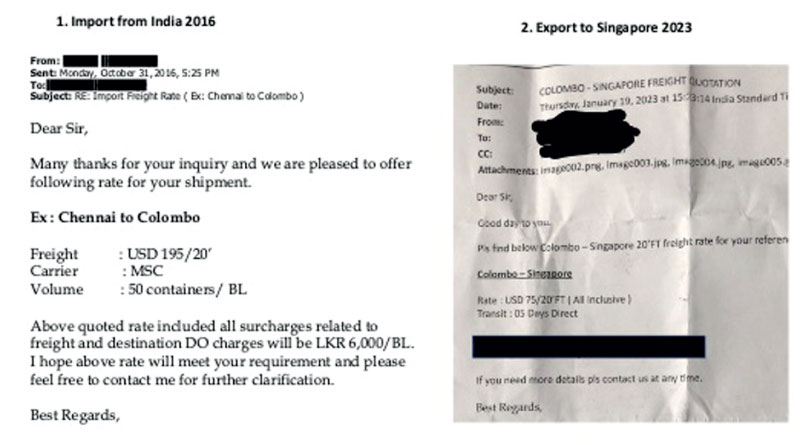 Two freight quotations after the new law came into effect in 2013
---
Shipping Minister has decided to allow separation of surcharges to re-introduce ad hoc charges after 10 years
Rescinding Shipping Gazette 2041/10/2017, immediately increases a 20-foot container by minimum Rs. 75,000 - Rs. 125,000 with two surcharges as a start
No option says commodity importers, but the price increase will be passed on to the consumers
Pettah traders say the Government must take a stance if they are to look after 22 m citizens against few shipping agents
---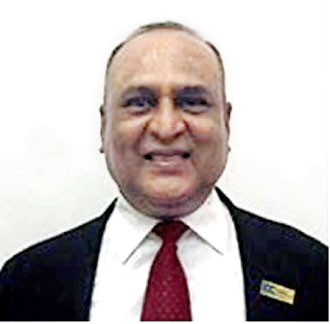 Parakum M. Abeysekera
---
Experienced businessman with 40 years dealing in the international commodity trade, Sugar Importers Association President and Essential Food Commodities Importers and Traders Association Consultant Parakum M. Abeysekara speaking to Daily FT, said that their members are quite shocked at a decision taken by the Minister of Shipping Nimal Siripala De Silva to rescind a gazette that was perfectly helping the import industry with transparent freight mechanisms for 10 years. Introducing surcharges out of the freight rate will simply increase the cost of shipping charges and that will lead to further cost increases while the country is fighting a serious inflation issue, he noted.

Abeysekera, a Board member of the International Chamber of Commerce Sri Lanka, expressed shock as he knew that the Sri Lanka Government brought these laws in 2013 even with the consultation with International Chamber of Commerce Paris Secretary General when introducing new commercial terms (2011) where she was invited by Joint Apparel Association in 2012 when the law was in the draft stages. More on this will be available with them, he said.

"We suffered a lot until 2013, the shipping agents, freight forwarders, consolidators, and a number of co-loaders you name it, everybody involved in importation and clearing was charging various ad-hoc charges as they wished while we never had any contractual obligation to them on CFR shipments. I could recall sometimes when the freight was just 5-10 dollars per CBM when it came in LCL format the local charges were adding up to Rs. 50,000 per CBM at that time which was about 10 times the freight," Abeysekera recalled.

"We can remember various charges starting from THC, BL charges, movement charges, seal charges, documentation charges, LCL charges, de-stuffing charges, transfer charges, handling charges and so on and so forth. About 25 line items were added and we had to pay it to clear our goods from the port without demurrage as they would otherwise not release the documents if we did not pay them all these extra charges, although we were not the freight booking party until the goods arrived at the warehouse or the port's container yard. After the law in 2013, all this stopped, and we just paid one full freight if we negotiated, or the seller paid the full freight and we paid a reasonable delivery order fee for a consignment," Abeysekera said.

"Every time charges were added earlier, we had to pass that to the retailers, and they passed it on to consumers. In fact, we can remember some time they had something called zero freight imports from India, but although they declared zero freight to customs, they charged us massive surcharges when goods arrived. As Pettah traders we are reliably informed by our suppliers that part of what was collected from us as surcharges were reimbursed to India as freight and profit," he emphasised.

Abeysekera produced to the Daily FT two freight quotations after the new law came into effect in 2013 and how the market brought the freight down as all-inclusive charges were required by the law. The first one was given on request to then Finance Minister Ravi Karunanayake as agents wanted to re-introduce import THC and surcharges in 2016. As one would see the total in this case all-inclusive was USD 195/20' container from Chennai to Colombo, whereas if THC was allowed separately that alone from both end would have cost $ 148 in Colombo and another $ 72 in Chennai which are published tariffs, this alone would be an extra $ 220 plus freight on top of it, with other surcharges it would have been close to $ 500 if the law was not there. Karunanayake, knowing the freight industry very well, immediately said it cannot be allowed. The $ 195 all-inclusive was negotiated from Colombo, but finally our seller in India actually negotiated at $ 170 all-inclusive per container.

The second example was taken for an export to Singapore in 2023 January, it was only $ 75/20, (TEU) all in, but now if the Gazette is removed it will cost additional minimum $ 150 + 25 BL charges, which will drive up cost to over $ 300, this is how exporters will lose competitiveness as surcharges are added. The reason we get all-inclusive competitive rates is, most of the time shipping lines re-position empty containers from one region to another region, so depending on requirement they offer market driven freight as it is some recovery for them rather than taking an empty container, Abeysekera explained.

On the other hand, people are also competing, so shipping agents, freight forwarders cannot just add surcharges as they wish on all-inclusive rates when the law is in place. This is how market forces work with supply and demand, if you take elements of the supply and demand out of the equation and break it up and fix prices you are allowing cartelisation, price fixing of service providers and distorting the landed cost to make profits. If you remember during the last two years with the COVID supply chain disruptions, freight rates skyrocketed but we could not grumble as again it was market driven all-inclusive prices on a supply demand situation, we did not complain to the Minister to intervene.

We alone bring imports of nearly 100,000 TEUS and 25,000 FEUS in a normal year as food products, this is all going to go upwards now, and we have no option but to transfer it to the consumer. Breaking freight is also a loss of revenue to the Government as concepts such a zero freight that was prevalent before 2013, will automatically reduce customs duty too, he said. The country, under normal circumstances imported up to 50,000 laden containers a month, which means other than food commodities every item will go up and these surcharges will keep on adding as we experienced this before 2013. In 1997 they started with one line item, and ended up with 30 by 2013 until the Finance Ministry understood the problem, he said.

"We have written to the President's Office and also informed our position to the Minister, we hope the Government will look into this matter seriously and the interest should be 22 million consumers and the critical export sector, not the profits of a few hundred shipping agents and service providers," Abeysekera said.