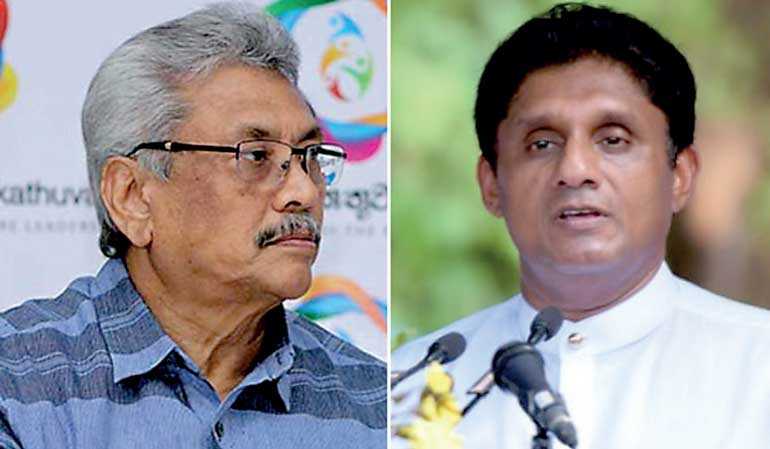 The two main sides have already made their stance on this matter clear. Once they get into power, they are 'going to develop' the country, and they are willing to spend in order to do so
---
By VLM

Whenever we end up with an election (or two or three), Sri Lanka goes into hyper drive. And more often than not, our economy will have to pay the price. There are three main impacts onto our economy from this election season, and it's so very important that we discuss what these are.
The fiscal impact: To spend their way to our hearts

Whatever side ends up winning the Presidential Elections, it's squaring up to be a close fight. With a Parliamentary Election just around the corner as well, a close presidential vote is going to make things very messy. So what's the most straightforward way to win a parliamentary vote once you're in power? Why, spend of course!

The two main sides have already made their stance on this matter clear. Once they get into power, they are 'going to develop' the country, and they are willing to spend in order to do so. Sajith's passion for houses is well known, and if he rides a new (yet old) wave of populist UNP voters to victory, chances are he'll want to make sure they stand by him through a Parliamentary Election as well.

On the other hand, Gotabaya Rajapaksa has already promised to increase fertiliser subsidies, and his trusty advisor and ex-Central Banker Ajith Cabraal has also set out a plan for a massive infrastructure expansion.

Keep aside the fact that these spending signals might show that the floating voter this time is rural, we find ourselves in a bit of a pickle. How are we going to budget for all this? The Government is already expecting a budget deficit of 4.8% of GDP for 2019, and with how all governments in recent years have severely under forecasted their own deficits, it's quite reasonable to expect the deficit to actually be above 5%.

With all the talk about lower tax revenue so far (and the possibility of tax cuts after the new president comes in), we might even end up with a budget deficit for 2020 well above 5%, maybe even reaching 6%!

Why does the fiscal deficit matter? Well, we need money to finance it. If the Government has to borrow to bridge the gap from domestic sources, we might see interest rates rise for the rest of the country as well. The IMF might also not like it very much, and whoever comes into power will sorely need the money that they will give us. But of course, the biggest problem is how it will affect our debt.
The debt impact: The burden is on our shoulders

Most of the time, the Government has addressed budget deficits primarily through foreign debt. We all know that's a problem. The story of our public debt being above 83% of our GDP became quite popular in the recent past, and with good reason.

The country is probably going to have to pay at least $ 4 billion in debt repayments every year until 2022. So in addition to all the budget financing, there's all that to be paid off as well. And with imports this year being pretty weak, 2020 could see a massive growth in imports, and even create a large Balance of Payments deficit. So there's that to deal with as well.

It seems pretty clear that both sides know that the debt situation isn't very sweet. While they can blame each other for the reasons, both sides have shown some sort of idea that they do need to deal with it themselves (if they expect to come into/stay in power).
Why does the fiscal deficit matter? Well, we need money to finance it. If the Government has to borrow to bridge the gap from domestic sources, we might see interest rates rise for the rest of the country as well
One idea that both sides have talked about is simply borrowing more! With global interest rates being very low, that might not be such a bad idea for next year. Of course, the problem is when we have to pay that money back as well. Sri Lanka isn't going to get a break for quite some time. The economy isn't going to be happy.
The economic growth impact: Can we get bigger again?

Our growth isn't doing too well right now. Ever since 2012, we've been on a bit of a slide, and although there was a one-year recovery in 2014, our GDP has missed out on growing every year after 2012. This year is probably going to be even worse, with last year's political mumbo-jumbo and this year's terrorist attacks getting together to give the economy quite the beating.

Things might look a little better next year, with people already fattening their pockets to spend once their favourite politician, whoever he may be, comes into power. But will that last? With everything that could happen to drag us down again?

Sri Lanka has talked about improving exports for quite some time, but it hasn't really happened in the way we talked about. Sure, apparel hit $ 5 billion and tourism did well until Easter, but there's so much more that hasn't happened.

If the country is to truly bring the story of growth back to where it once stood at, whoever comes into power needs to do some quality reform work. Reforms of bureaucratic red tape. Reforms of excessive tariffs and restrictions. Reforms of data accessibility. Reforms, in other words, that Sri Lankans haven't really heard of before. Without these reforms, any pickup in growth is likely to be just a stutter.
The way forward: Hope for the best?

At the end of the day, there's not much that we citizens can do. Yes, we can vote well and be very informed, but the political environment that exists now and will exist later won't make it easy for anyone in power to truly change things.

Add to that the likelihood that some things will get worse because of these elections, and you're left with a bit of a sad story. It's all up to the politicians and their advisors. Let's hope they can spin some magic.