Following is the address delivered by keynote speaker, Indian MP and world-famous author Dr. Shashi Tharoor at the launch of Dinesh Weerakkody's book 'Ranil Wickremesinghe: A Life' on 4 April
---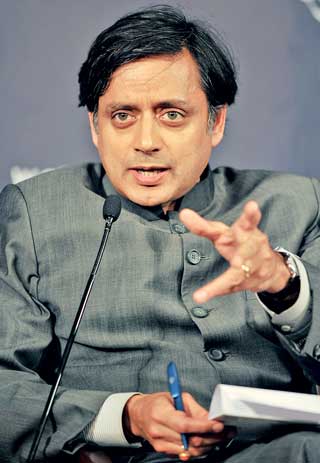 Dr. Shashi Tharoor
---
It is presumptuous for a second-term MP to congratulate a fourth-term PM, but I am emboldened by Ranil Wickremesinghe's own graciousness and generosity to me. At one level, it can be claimed that nothing could be easier than speaking about India-Sri Lanka relations. After all, Sri Lanka is India's closest neighbour, and the relationship between our two countries is more than 2,500 years old. Indeed, both sides have built, and built upon, a long legacy of intellectual, cultural, religious and linguistic exchange.

Lanka features centrally in our sacred epic the Ramayana and, for that reason, is probably the one foreign country that has always had a place in our popular imagination. Then there are the old Sinhalese legends of Sri Lanka's links to Orissa in India, which are of course manifest in the striking similarities of the Kandyan and Odissi dance forms. Add to this the fact that a significant Tamil minority on the island enjoys ties of kinship and cultural affiliation with India's southern state of Tamil Nadu, and the historical bonds only grow stronger.

In more recent years, our relationship has been marked by frequent and close contact at the highest political level, growing trade and investment, cooperation in the fields of education, culture and defence, frequent cricket matches, as well as a broad understanding on major issues of international interest.

And then there's of course tea. Today you export twice as much as we do, largely because we drink 90% of what we grow. But an addiction to tea unites us. And now we can learn better marketing from you (Dilmah).
Sri Lanka's lessons

As an Indian I can tell you that we value all this greatly, not least because Sri Lanka has lessons from which we too in India can learn. It is now, for instance, economically South Asia's most successful state in GDP terms, with a per capita income that is double India's and property values in Colombo that outstrip Mumbai's.

The end of the conflict with the LTTE has brought about a greater possibility for peace and stability in Sri Lanka and presented the island an opportunity to heal wounds, make a new beginning and to build a better future for its people, opening up also greater options for us to cooperate bilaterally and areas of engagement.

The conclusion of the armed conflict saw the emergence of a major humanitarian challenge, for instance, with nearly 300,000 Tamil civilians housed in camps for internally displaced persons (IDPs). India is working actively in assisting in the 'four Rs' of relief, rehabilitation, resettlement and reconciliation in northern and eastern Sri Lanka, from financial contribution and hospital services to providing seven Indian demining teams to help expedite resettlement. Take, for instance, the housing project for 50,000 IDPs that is underway with Indian support valued at $ 270 million; add the railway plans to which we have committed Lines of Credit of $ 1.1 billion to reconnect the north of the island to the south.

India has also openly expressed the need for national reconciliation through a political settlement of ethnic issues at the highest levels and our consistent position is in favour of a negotiated political settlement, which is acceptable to all communities and is consistent with democracy, pluralism and respect for human rights—a stand that is in keeping with the values enshrined in our own Constitution framed by India's founding fathers who too, in their time, had to grappled with blood, violence, and mass displacement.



In other words, India has remained engaged with Sri Lanka to return displaced people to their homes to resume their lives which had so cruelly been interrupted by conflict. This is not a case of New Delhi interfering gratuitously in the internal affairs of its southern neighbour. India cannot help but be involved, both because it is Sri Lanka's closest neighbour geographically and because its own Tamil population—some 70 million people in the politically important southern state of Tamil Nadu—remains greatly concerned about the wellbeing of their ethnic cousins across the Palk Straits. Our mutual engagement is in the fraternal spirit that characterises our friendship and history and in light of the values our nations celebrate and aspire to always uphold and reinforce.

Yet, of course, much remains to be done. On the one hand, we are eager to work with Sri Lanka on an assortment of development infrastructure projects, including power sector cooperation (such as the LNG plant in Sampur), infrastructure (of which, in addition to the railways, the Kankesanthurai harbour in an example, besides roads, airports, and more), health (the Dickoya, Vavuniya hospitals among others), livelihood projects, education, irrigation, and so on. Many of these projects are in fact underway outside of the north and east, and overall development commitments made by India add up to $ 2.6 billion, of which nearly half a billion constitute outright grants. For we are not merely keen on mending the damage of the past; we are committed to your future. Indian and Sri Lankan cooperation in areas such as science and technology, agriculture, water harvesting technology, and even space technology would help us better negotiate the challenges of an evolving world.


China

On the other hand, however, there have been concerns. Some wonder whether China's interest in the Indian Ocean region undermines our own historical links and cultural networks built over generations and centuries. China's new 'Maritime Silk Road' is also, of course, anchored in history: the ancient Maritime Silk Road of the 15th century started from Southeast China and traversed the South China Sea, through the Straits of Malacca, to Sri Lanka and India, crossing the Arabian Sea to reach the Gulf countries and East Africa. Its revival now, however, is a facet of contemporary Chinese foreign policy. President Xi Jinping addressed the Indonesian Parliament and called for the re-establishment of the old sea networks and Prime Minister Li Keqiang repeated this call at the APEC and East Asian summits.

India regards this with interest but it must be proactive too, not least because of those existing links to which I alluded earlier. But it would also be worth remembering that the Silk Roads, even in their earlier avatar, caused serious geopolitical concerns. The celebrated Admiral Zheng He, in the fifteenth century, erected a stone tablet — translated into Chinese, Persian, and Tamil — near the Sri Lankan coastal town of Galle, with an inscription appealing to the Hindu gods to bless his efforts to build a peaceful world based on trade and commerce.

In reality, though, Zheng's expeditions involved the use of military force in present-day Indonesia, Malaysia, Sri Lanka and India to install friendly rulers and control strategic choke points across the Indian Ocean. He intervened in the dynastic politics of Sri Lanka and Indonesia, abducting and executing local rulers in Kandy and elsewhere. He even seized the relic of the tooth of Buddha, a symbol of Sri Lankan political and cultural sovereignty. The countries along Zheng's route therefore recall his adventures not just as initiatives to promote trade and establish commercial links, but also as direct military intervention in their affairs, under the pretext of ushering in a harmonious world order under China's emperor. Those who seek to revive historical links might also wish to remember historical iniquities.


India

In this sense there are many advantages India has in its relationship with Sri Lanka which have happier historical precedents. Cultural cooperation, for example, remains a very important aspect of bilateral engagement. The Jaffna Cultural Centre in Colombo, supported by India, actively promotes Indian culture and many are the Sri Lankan students graduating from universities in India.

India is committed to the restoration of important icons of the cultural heritage of Sri Lanka that are located in its heartland, and looking beyond the limits of frontier too in some cases. We have participated in the setting up of the International Buddhist Museum in Kandy, following the setting up of a similar institution at Dalida Maligawa, and the restoration of the Thirukeeteswaram Temple in Mannar. The Kapilavastu relics were brought to Sri Lanka in 2012 by the Indian Government.

A visa-issuing consulate was opened in Jaffna recently to promote people-to-people contact and visits between the two countries and especially their Tamil areas, followed by a consulate in Hambantota and the office of the Assistant High Commissioner in Kandy. India also supplies the largest number of tourists into Sri Lanka, and I am delighted to hear how well your tourism industry is doing here. Tourism is very much the way to go forward: $ 1,000 invested in the tourism industry employs eight times as many people as the same $ 1,000 invested in manufacturing. Sri Lanka is ahead of India in recognising the importance of this.


Commercial relations

Commercial relations are in good shape too and are expanding rapidly. Trade between India and Sri Lanka grew fast after the coming into force of the India-Sri Lanka Free Trade Agreement 17 years ago, making Sri Lanka India's largest trade partner in the SAARC. India in turn is Sri Lanka's largest trade partner globally, and Sri Lanka's weight in Indian imports has increased consistently each year.

In 2014 bilateral trade touched $ 4.6 billion, which was a 23% jump from figures in 2013, and India exports $ 4,000 worth of goods to Sri Lanka every year now. In addition, more Indian goods are transhipped through Colombo than through Indian ports; indeed, some 80% of India's container traffic is shipped through Colombo. This too reinvigorates Indian thinking towards Sri Lanka.

About a decade ago, our countries completed negotiations on a Comprehensive Economic Partnership Agreement, but political hesitations in Colombo have delayed its finalisation and signature. But that has not stopped many prominent Indian brand names having obtained FDI approvals of over $ 500 million, and headway is being made on economic and technological cooperation. Indian investments in Sri Lanka are today valued at $ 1 billion, with another $ 1 billion in the pipeline.

One concern that many Indian private sector firms have expressed to me, however, is the extraordinarily stringency of your Environmental Impact Assessment regulations as applied to Indian firms. Kirloskar, for instance, has been waiting three years for environmental clearance of an irrigation project; some of the Indian executives say, with feeling, that Chinese companies never seem to face as many environmental hurdles as Indian companies do. I am sure that Sri Lanka, as good cricketers and hosts, will want to ensure a level playing field for all sides.

It would be facile to pretend that there are no other irritants at all in this relationship. We all know that there are some in India who would still rather have preferred that I were not here. The actor Rajanikanth cancelled a visit to Sri Lanka just last week. The issue of the Sri Lankan Tamils is both an emotional and a political subject in our country, erupting periodically in the hothouse politics of Tamil Nadu. Though I speak in a purely personal capacity, I am confident that we all seek a political consensus to give the Tamil people of Sri Lanka an honoured place in their own country – and so defuse the situation in Tamil Nadu too.

As a Member of Parliament representing a coastal constituency, another issue, given the proximity of the territorial waters of both our countries, especially in the Palk Straits and the Gulf of Mannar, that I should highlight relates to incidents of the straying of fishermen across territorial waters and some cases of poaching, often resulting in their interception by the other country's coast guard and subsequent incarceration, to a chorus of protests by agitated families and their political representatives.


Legitimate concerns

But India has never shirked from making known its legitimate concerns, and our engagement on these issues have been received in a very constructive spirit by the leaders of Sri Lanka. In 2015, Prime Minister Modi embarked on a tour of the Indian Ocean that was noteworthy for where he went and where he didn't. Speaking at the time, he stressed that his "visit to the three Indian Ocean Island countries reflects our foreign policy priorities in India's immediate and extended neighbourhood," underlining his determination to intensify engagement. It has to be admitted that New York has featured more frequently on Indian prime ministerial itineraries in the past than Sri Lanka. But this is now changing.

The message of the visit was clear: India is waking up to the importance and potential of its own position in the middle of the Indian Ocean. Former US Senator Daniel Patrick Moynihan, contesting proprietary notions in New Delhi about the Indian Ocean, once trenchantly remarked that it was a mere whimsy of nomenclature that the ocean had been named Indian; "it could just as well have been called the Madagascar Sea." Moynihan loved being provocative, of course, but in our obsession with its troubled land borders with Pakistan and China, India had indeed overlooked its maritime interests, often acting as if the ocean was an accident of geography rather than a vital strategic setting.

In recent years, under Mr. Modi's immediate predecessor, Prime Minister Manmohan Singh, in whose Council of Ministers I served, this began to change. Mr. Modi has now set the seal on a dramatic reorientation of Indian strategic thinking, creating new alliances and reinforcing old ties.

Similarly, repeated affirmations of friendship with Sri Lanka followed a period under President Rajapaksa when Colombo seemed, from India's perspective, to be distinctly warmer to China and Pakistan. This friendship between our countries is only natural, after all, given that Sri Lanka is inescapably important for India; domestic matters here involving the Tamil minority inevitably spill across the straits to Tamil Nadu, and Sri Lankan leaders have all understood the importance of assuring India that it security is at no risk from the south, and that its soft underbelly would not be exposed to exploitation by strategic rivals.

India has also been an animating spirit behind efforts to revive the Indian Ocean Rim Association, which brings together 20 countries straddling three continents thousands of miles apart, united solely by their sharing of a common body of water. The association unites Australia and Iran, Singapore and India, Sri Lanka and the United Arab Emirates and some dozen other states large and small — unlikely partners brought together by the fact that the Indian Ocean washes their shores. The Indian Ocean serves as both a sea separating them and a bridge linking them together. Sri Lanka's support to and presence in this project is integral.


China's ambitions

China's ambitions in the South China Sea have extended well into the Indian Ocean, and the prospect of an emerging superpower casting its shadow has roused anxiety in a number of littoral states, which look to India as an alternative security provider. So far India — which has long been known for being better at projecting soft power in the region than exercising hard power — has not always been found up to the task, leading some observers to suggest that we are gradually being strangled by a Chinese "string of pearls" around our oceanic neck.

New Delhi is conscious of the danger of being outrun in its own neighbourhood – though as our neck is thick enough I am not too worried – and Prime Minister Modi's trip to the Indian Ocean littoral was evidence that its awakening is being translated into action. The brotherhood of man is a tired cliché; the neighbourhood of an ocean is a refreshing new idea. And what we offer is not the roar of a super power, but certainly something better than being one among several jewels – pearls or otherwise – in another country's geopolitical calculations.

On the whole, however, the picture one can paint of India-Sri Lanka relations is a highly positive one. I witnessed at first-hand the welcoming atmosphere in Colombo when the International Indian Film Awards (IIFA) took place here in July 2010, shortly after the end of the civil war. As I observed on that occasion, India and Sri Lanka need to look to the future, to a future in which our geographical proximity becomes a reason for closeness rather than controversy, where the past reminds us not of recent pain but of ancient commonalities, where religion and culture bring us together in a celebration of our common heritage.

In our shared epic, the Ramayana, Lord Rama came to Lanka to reclaim Sita and left; the Indian emperor Ashoka's envoys brought Buddhism to Lanka and stayed. These ancient links unify us in spirit, in the spirit of the timeless tides that wash our shores and that have tied us together for millennia.

The way forward is clear, and well-lit. We just need to walk that way, hand in hand.

(Reproduced)