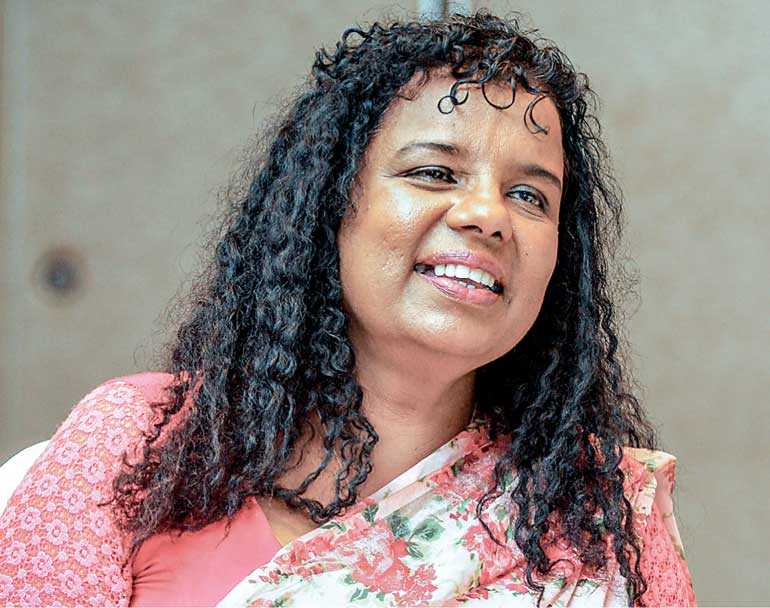 Dr. Ajantha Perera
---
Says political mess under Yahapalana Government forced her to enter politics
Claims no Government has been committed to solve garbage issue
Says present politics has become a business for the majority to earn, obtain privileges, rob people's money and misuse power
Says Sajith is a misfit to become president as he still lacks knowledge about politics
Assures to write off debts through negotiations with her counterparts
Pledges to have strict administrative government where no politicians can get commissions for development projects
Claims GR, Sajith and Anura K are not threats to her


Dr. Ajantha Perera, who is the only female presidential candidate contesting the 2019 polls, said that she would not allow politicians and State officials to rob the country if she were to be elected as the eighth president of Sri Lanka."Since 1993 up to now Sri Lanka has received an estimated $ 2 to 3 billion from foreign countries for different waste disposal projects but no government has done anything concrete to solve the garbage issue in the country because they were more interested in commissions from projects," she claimed.

In an interview with Daily FT she spoke on a wide range of issues from the present political culture, her motive in stepping into politics, solving the garbage problem, reconciliation, saving the country from debt traps and also building a corruption-free Sri Lanka.

Dr. Perera, who is contesting from the Sri Lanka Socialist Party, is the first female candidate contesting a presidential election in 20 years following former President Chandrika Bandaranaike Kumaratunga's candidacy in 1999.

"Corruption will be controlled, where all the investors will have to go through a very transparent system in which all information regarding investments will be made available to the public under the Right to Information Act," she said.

Following are the excerpts of the interview:
By Shanika Sriyananda
Q: You are a scientist and academic and have been an environmental activist throughout your life. What is your relationship with politics?

I had no plans to enter into politics until I returned home from Fiji, where I worked in its university heading the Environmental Science Faculty for five years. The pathetic situation in the country made me take this decision. I was encouraged by my daughter who is doing her PhD in Politics and working in Africa, who told me, "If you want to see a changed country by solving the issues that you were trying to solve, do it now otherwise you will regret it."

However, the things that I have seen and experienced so far from government to government led me to take this tough decision. I think my beautiful and peaceful country deserves much better than what it is going through today. My main intention is to make sure that our children will have a better future for them to compete with the world.

I also want to build a country that is respected by the world and also get it out from the Third World countries list. I will not allow politicians and others to rob this country. For me, there is no country like Sri Lanka, which has an amazing heritage, eco-system and wonderful people.

I was working with the Socialist movement for a long time following in my grandfather's footsteps. He, Jayarathna Liyanage, was with the Socialist movement since he was young and closely worked with late N.M. Perera, Vivian Gunawardena and Colvin R. de Silva and they used to hold their meetings at his residence in Colombo. My father also aligned to the Socialist front but he never entered into politics as he didn't have the blessings of my mother. Therefore, politics is in my blood.
Q: You have been an advisor to many politicians. What was your experience working with them?

Yes, for many years, ever since I returned to Sri Lanka after completing my PhD, I was supporting politicians ranging from Pradeshiya Sabhas, Municipal Councils, ministers and lastly former Presidents as an advisor to find solutions to the garbage issue in the country. I was helping those politicians at all levels, but unfortunately they, despite being very attentive to my advice on how to solve the waste disposal issue in the country, did not take solid measures when it came to implementation. When I first had my environmental awareness programs, most rural people did not have much awareness about the environment and there were a very few grass-root level organisations working on environmental protection. I turned them into environmental organisations and more people got involved in our programs.

The only request I made to those politicians was to bring in policies and changes to promote recycling. I was promoting the recycling sector to help with recycling plastics and composting but unfortunately the then Government shut down the Embilipitiya and Valachchenai Paper Mills which did recycling.

During the height of the war in 1993, the authorities wanted to sell one paper mill for a foreign company for $ 600 to get commissions while I was tirelessly promoting recycling. They were more interested in commissions than developing and upgrading our industries to support recycling. Then they side-lined me while getting my advice and did not do anything concrete to solve the garbage problem in the country.

When MP Patali Champika Ranawaka became the Minister of Environment, he requested me to join as an Advisor. I agreed to work with him on the promise that he would solve the garbage issue and I worked without payment as I thought he would bring about some effective changes to solve the garbage issue. Later, I realised that although the officers were getting my advice, they were not interested in implementing it as they believed in landfilling and promoting the landfilling site at Meepe. We were at loggerheads over landfilling and this led me to start a campaign against landfilling. Then they saw me as a threat.

I also realised that they were more interested in getting the chunks of money coming into the country to solve the garbage problem. They had only done small composting projects scattered around the country at Pradeshiya Sabha and Municipality levels. Those small projects would not have much of an impact on the country's entire solid waste management problem. According to my estimation, Sri Lanka has received over $ 2 to 3 billion from foreign countries for different waste disposal projects since 1993 up to now.
Q: What was your experience in working with former Health Minister Sirisena ?

I had discussions with him as well as Minister Ranawaka to ban polythene in Sri Lanka as it was a huge menace. Both agreed that it was a good solution but they always sided with the business community which deals with polythene. When those businessmen were up in arms, they kept mum.

On the other hand, most of the politicians have double standards and they have no spine to take strong decisions to keep their promises. People are ready to follow new regulations or laws but the politicians are not genuinely committed to implement them.
People of this country have voted for old politicians throughout history and this needs to be changed. I will encourage young and energetic young political leaders to bloom as they are now suppressed and do not have much of a voice to confront senior power-hungry politicians who still want to be in politics without retiring in their old age
When I was working with President Maithripala Sirisena, when he was the Minister of Health, and also with Minister Ranawaka, I never asked them to appoint me as the Chairman of the Central Environmental Authority or any other similar institution as I always knew that they would try to bring their relatives – sons and daughters of their uncles and aunts or some close aides. This is how dirty our politics is and I didn't want to get my hands into it.
Once I met former Health Minister Sirisena when I was a member of the Food Advisory Committee and proposed that he should bring a total ban on polythene. He said that was a good idea and tried to impose a ban but again nothing happened as it became a flop because businessmen filed a case against us.
Q: You said after coming from Fiji, you were disappointed about the country's situation. Why?

I felt that there was no healthy politics in Sri Lanka. It is in an utter mess, where politicians are fighting with each other instead of developing the country and serving the people. When you take the word 'Deshalapanaya' in Sinhala, it means managing the land but today it is robbing the land.

What I see in Sri Lanka at present is politics has become a business for the majority to earn, obtain privileges, rob people's money and also to misuse power. This is why the majority of the misfits, who have no decency and educational qualifications, have entered Parliament. Some politicians like Minister Sajith Premadasa have been misled under this existing political culture.
Q: Why do you say he is being misled? Do you mean to say that he is a misfit for the presidential candidacy?

When he was the Minister of Fisheries, I was the Director Housing and he wanted me to give him some houses for the fishing community. During that time, we built over 23,000 houses and I managed to give him funds allocated to Hambantota area to build houses. I thought that he, like his father late President R. Premadasa, was keen to build houses but he put his name for all the housing projects like he had built them with his own funds. He builds houses using public funds and he has no right to put his name for those projects. He thinks he is a king and not a public servant.

To me, Sajith is a misfit to become the president of this country as he still lacks knowledge about politics. Politicians like him need to have university education to study more about politics to get back to Parliament. I also think that politicians who lack proper educational qualifications and also lack knowledge should give up politics and find some other jobs from which they can earn a living rather than robbing the country.
Q: If you become the president, you will be confronted with many issues, from malnutrition and land to missing persons, probing war crimes and preventing extremism. What are your plans to solve these serious problems?

I will definitely solve these issues through effective, simple and quick means. I have plans to bring swift changes to all sectors to make them more effective and efficient, rebuild strong relationships among communities and the security of the country and maintain peace.

I believe that if someone can't achieve something within three years, you are not going to achieve anything anyway as the person is incapable to handle the tasks. Therefore, I will not hold the office if I can't deliver within a period of three years.

I want all citizens to be Sri Lankans rather than being Sinhalese, Tamils, Muslims and Burgers. For example, people in Puttalam are suffering due to the cement factory and the coal power plant in the Eastern Province. Why do we want to discriminate against one section of people in the country? I will bring justice to all people as, just like my child wants to be happy, their children also want to be happy in the future in the country where they belong.

I will commence strong dialogues between all ethnic groups to solve their problems through negotiations. I hate discrimination and under my leadership, I will bring all people under one umbrella to promote a 'one country one nation policy'. Once the country's security is strengthened, we can face the world. I have plans to solve all the issues.
Q: What will foreign policy be under your leadership?

I will use all my connections in India, Germany, US, the UK and Fiji to strengthen our relationships with the world. I have developed healthy relationships with them and have a better understanding of international relations to drive the country to shine in the world.

I will also have dialogues with my counterparts to write off a sizeable portion of debt to save the already-indebted country from debt traps.
Q: Despite the pledges to reduce the Cabinet by half, it still contains an unwarranted number of ministers, placing a huge burden on public funds. What will be your Cabinet be like, if you win the presidency?

I will not allow a huge Cabinet in Parliament, eating good food, living luxurious lives, using super luxury vehicles and enjoying all perks using public funds. This had to come to an end. I will stop spending public funds to maintain unwanted politicians who are incapable of delivering results to the people of this country. I will have a Cabinet of 50 to 70 to reduce the huge financial burden that a country like Sri Lanka cannot bear. I will use that allocation to develop the country.

It will be a strict and very administrative government, where no politicians can have commissions over development projects, there will be no tamashas for openings or plaques with politicians' names. It will be a people's government where all politicians including the president will be servants.
Q: We have lost some top investors due to corrupt practices which required them to pay commissions to many people, from politicians to officers in the State sector. How will you control corruption under your government?

Corruption will be controlled where all the investors will have to go through a very transparent system in which all information regarding investments will be made available to the public under the Right to Information Act. We will mainly depend on local expertise and the local workforce for development projects. We will also use the knowledge of university academics in the country's development and governing the country.

Under my government, we will not leave room for corruption. Those who are involved in taking bribes and commissions will be exposed and taken to task and they will have to pay back what they have robbed if their deals are legally proved.
Q: How would you describe the response from people so far given that you are the only female presidential candidate after 20 years?

Most people ask why a woman from an unknown background is contesting the 2019 Presidential Polls. When I go to the people, they have many questions about me.

I am used to mudslinging as people who couldn't tolerate my campaigns on recycling and also when I was working on the National Policy on Solid Waste Management called me 'garbage queen' and 'garbage aunty'. They treated me like garbage in some areas that I had visited. Therefore I am used to the dirt that comes with it.
Q: Can you explain plans to empower women, who are the most forgotten lot under any government?

They are an important part of the country's economy and development. We have still not developed the industrial sector and we don't have enough industries. One of my priorities will be to develop the industrial and agricultural sectors to create more employment opportunities for women. More opportunities for women to pursue education will be provided through opening Open University branches in main cities. They will also be facilitated to follow vocational training courses to give them the opportunity to start self-employment. Developing an efficient transport system will also be considered to make safe transportation for all.
Q: The Presidential Elections 2019 will be very crucial with some popular personalities in the contest. How confident are you about your victory?

Basically Gotabaya Rajapaksa is not a threat to me because people with brains will oppose a government that would use military power to rule the country. I totally disagree with his excessive use of military power to maintain peace. For me, I don't want military power to connect the people in the north and east with the south. I believe in leadership that does not suppress or mistrust my own people. I have worked with terrorists and I know how to get close to the affected communities. Rajapaksa also thinks that he can come into power using his political family background and his military power.

The most important thing is to win the hearts and minds of all ethnic groups in this country. There shouldn't be a difference between Sinhalese, Tamils and Muslims. The most important factor is to respect and understand each other.

Sajith wants to give a house to everyone but under my government, when I develop the economy and write off debts, people will have enough finances to build their own dream houses and they will not want to live in given houses. I am trying to empower people. While I am trying to become a people's servant, he is trying to become a king. People can see the difference so he is not a competitor for me.

JVP's Anura Kumara Dissanayake Anura has already changed his colours. He went from red to purple, the colour which shows a lack of oxygen in red blood when one is dying. So I think he has already chosen to die.

Even though they are popular among masses for whatever reasons, they are not threats to me compared to what I am planning to do for our motherland. My pledges for the country are more powerful than what they stand for. I believe that they are not competitors for me as I stand above them. It is true that they have been in in politics for a long time but they have never understood politics.

I urge the voters to think about their children's future when they cast their votes. This time they vote not for individual candidates but for their children's future to have a safe and better place to live. It is a very crucial Presidential Election to select the right person to take the country forward.
Q: Still, for many people, you are an unknown candidate. How are you going to plan your campaign to face this challenge?

Yes, it is true that many people don't know me. But when I started my campaign from Vavuniya, it was surprised by the response I received there. I know I have to work harder than other candidates to get close to people. Convincing people and changing their mindset is a huge challenge but I believe that when people know how I am going to serve this nation, they will rally around me. I do not give false pledges just to become president.

When I was campaigning in Galle, one woman in a rural village asked me whether I could give five cement bags for her to vote for me. So you can understand the calibre of our voters who are used to voting under this corrupt political system.

I also want to build a clear and clean path after my tenure for the next president, who will be a young man or a woman. I need to empower the youth in politics and also set a good example by being an honest political figure.

People of this country have voted for old politicians throughout history and this needs to be changed. I will encourage young and energetic young political leaders to bloom as they are now suppressed and do not have much of a voice to confront senior power-hungry politicians who still want to be in politics without retiring in their old age.