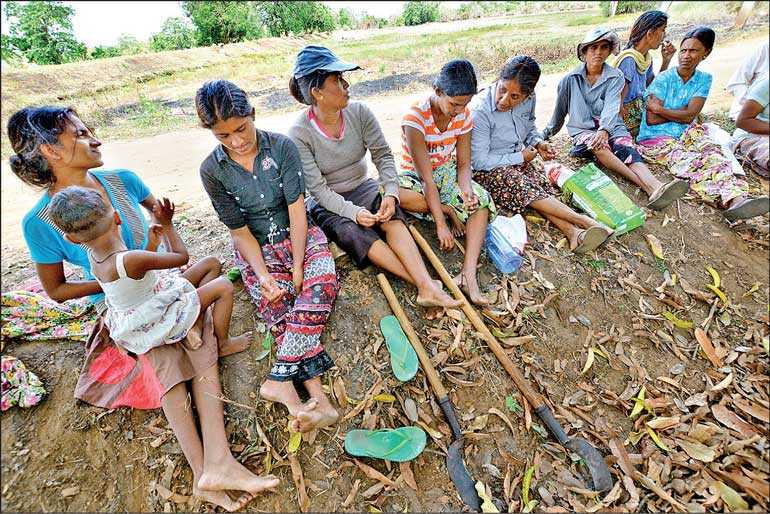 Can there be any alternative approach to competently address social issues? Can there be any alternative arm that can offer innovative solutions to resolve pressing social issues? Yes, a well-developed social enterprise sector can be a strong arm to lobby for changing the game – Pic by Shehan Gunasekara
---
By Dr. Kumudu Jayawardhana
---
What if the problems are both politically and commercially unappealing? Governments would not prioritise the true social issues if the issues are politically unattractive in their power and popularity play. As a result, most of the potential investment projects on true social issues are generally frozen by political rancour.

On the flip side, being intensely trenched in wealth accumulation, the private sector would not have a good investment appetite if the issues are with marginal profit potentials. Interestingly, not all social issues such as rural poverty, rural unemployment, women unemployment, child malnutrition, climate change are politically and commercially attractive.

Consequently, no one could anticipate the public sector along with the private sector would fix all social messes which sparked an outcry from researchers and scholars on searching for alternative paradigms of fixing such social messes.

Can there be any alternative approach to competently address social issues? Can there be any alternative arm that can offer innovative solutions to resolve pressing social issues? Yes, a well-developed social enterprise sector can be a strong arm to lobby for changing the game.

This article provides navigation on understanding building a vibrant social enterprise sector in Sri Lanka fit for addressing pressing social issues.
Social enterprises – A marriage of two different souls!
As the European Commission (2011) defines, a social enterprise is an operator in the social economy whose main objective is to have a social impact rather than make a profit for their owners or shareholders.

It operates by providing goods and services for the market in an entrepreneurial and innovative fashion and uses its profits primarily to achieve social objectives. Thus, it's a marriage of two discordant criteria; 'social mission' which is the core purpose of their presence, and 'financial sustainability' which accentuates the need to engendering their own revenue models and cash flows to stay financially sustainable in long-run.

Grameen Danone Foods in Bangladesh provides a living example for a social business enterprise which is a joint venture formed between Grameen Bank of Bangladesh and Group Danone of France in 2006. What makes it a social business enterprise?

The nature of these ventures could be simply explained via two main dimensions; first, the primary perseverance of this venture formation is not the wealth accumulation but to make a huge dent on malnutrition among rural kids in Bangladesh by providing essential nutrients that are lacking from their diet.

Does this mean that they are financially blind? Of course, no. As a consequence, their second focal dimension creating financially sustainable ventures while getting away from dependency models such as pure charities and pure non-profit organisations.

Here, this venture 100% operates as an enterprise by generating its own revenue by selling the yogurt at nominal prices. Here, it is important to evaluate what they do with the profit they earn from their sales. Significantly, they re-invest their money on their social mission, and thus, the venture runs on 'No loss, No dividend' basis which makes this business model undoubtedly distinguished from a commercial venture.

To sum-up, a social enterprise is a marriage of two different ends – 'Combating with wicked social issues' which is the primary purpose of the creation of these ventures while staying 'financially sustainable; since finances provide blood for these ventures to survive and scale-up in the long run. In that sense, it is quite pertinent to call these 'hybrid ventures'!
Marching from conventional to unconventional economic system – Role of social enterprises
Well, what are the salient features and issues stemming from the dominant market economic system? The core of the market economic system is to allow the prices and the production amounts are to be dictated by the law of demand and supply.

Amid this, it is exceedingly definite that the market economic system sturdily urges enterprises to be fiercely competitive in wealth accumulation and value creation to stand out from their competitors. The system forces enterprises to spot the market gaps and capitalise purely on high profit yielding prospects.

This is where the requisite of enterprises is shaped on being more innovative to delight their customer bases and where themes such as serial innovations, path-breaking entrepreneurs, driving the markets have become the top of the contemporary business agenda.

So, what is the problem with this economic system? Creating an impact on society is at all times secondary in this system while profit motives ignite the fame. Thus, it is not a falsehood that the system motivates enterprises to yield profits at the expense of social well-being, worker welfare, and environmental sustainability.

Further, world history provides abundant cases on the detrimental consequences such as loss of jobs, loss of income opportunities, insensitive labour exploitations when the market economy model spins out of control.

These critiques on the dominant economic system ignited the world to think of an alternative economic paradigm, "social economy" where "wealth creation" is redefined in terms of financial, social, and environmental gains.

Though there are conceptual and definitional ambiguities in the system, the core of the system insists on creating an equilibrium between the profit motives and creating tangible social impact. Thus, the new model urges enterprises to deliver tangible social impacts by serving people rather than mere profit maximisation.

Just as in the Grameen Danone Project, the system stimulates the enterprises to distribute the profit to create better societies. However, can commercial ventures that are vastly regulated to maximise the profit motives meet these ends? This is where the debate has been created on recognising social enterprises within the overall entrepreneurship ecosystem since they are profoundly well-thought-out to conquer dual ends; mission-driven goals and financial goals.
Forming a fertile soil for social enterprises grow – Lessons from other countries
Well-positioning of social enterprises in national policy agendas has been a global trend specifically in the last decade. It should be understood that neither the social enterprises are immune to the rising tide of competitiveness and environmental dynamism.

Thus, creating effective policy frameworks is the first step in creating this fertile soil favourable to breed social enterprise since there are no possibilities for any industry/sector to flourish out of a well-organised and long-term policy framework support. In view of that, it is significant to look around and learn how other nations have strategised to create fertile soil for the sector to flourish and scale up with their policy initiatives.

The National Framework Policy for Ireland, 2019-2022 offers a healthy ecosystem for these ventures to tackle the pressing social issues. Similar to this, Scotland Social Enterprise Strategy which was published in 2016 also attempts to foresee long-term future development potential for the sector.

Foreknowing the significance of creating strong enterprises and nurturing business-like practices among these ventures, the policy framework has a strong focus on creating the enterprise side of ventures and market-related skills which intensifies the expected magnitude of impact in return.

Emphasising the significance of crafting a social sector that can proactively approach the local issues, Australia has social enterprise strategies for their different states (e.g. Queensland Social Enterprise Strategy, Victorian Social Enterprise Strategy) which is commendable.

Analysing the salient features of these successful policy interventions, all of them distinguish social enterprises in the overall entrepreneurship ecosystem supporting SEs working with diverse networks such as government and private sector parties. Further, the particular frameworks are well integrated in overall national policy agendas.

For instance, Ireland policies on social enterprises are strongly inclusive in the country's prominent economic policies such as Government's Future Jobs Ireland Strategy, Climate Action Plan, Ireland's delivery of the UN's Sustainable Development Goals, etc.

Similarly, the policy framework in Scotland is robustly embedded in the main national policies such as Scotland's Social Enterprise Strategy and Enterprise and Skills in Scotland. These policy interventions have certainly led the social enterprise sectors in respective countries to create competent enterprise models that are well-versed in the application of business-like practices to effectively address social issues.

Turning to the Sri Lankan context, it is vital to recognise the capabilities of this sector as an alternative wave of socio-economic development of the country and create a fertile ground for these ventures to grow. But, does it just happen? Of course, no. It happens with a meticulous specification of actions and inactions where the formation of a workable and diligent national level strategic policy framework matters.

As per Reverend A.B. Kendig (1876), "You cannot control the winds; that every sailor knows. But when the favouring wind comes it is your own fault if you do not set your sails to meet it." Thus, Sri Lanka as a nation experiencing the vicious consequences of spinning 'market dynamics' out of control, should strategise to set the sail in search of new avenues.

To get it right, the first step should be to distinguish social enterprises as a proficient sector to address contemporary social issues and make a national-level strategy to nurture them grounded in realism.
---
(The writer is a Senior Lecturer in Entrepreneurship at Department of Management Sciences, Faculty of Management, Uva Wellassa University of Sri Lanka, and can be emailed via [email protected])
---