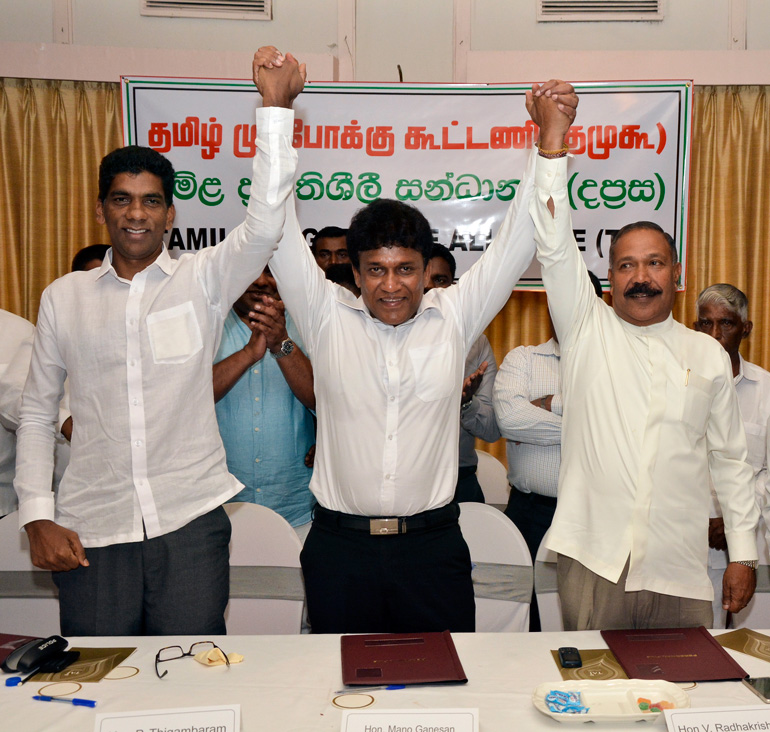 Tamil Progressive Alliance Leader Mano Ganesan (centre), Deputy Leader Palani Digambaram (left) and Deputy Leader V. Radhakrishnan at the press conference yesterday – Pic by Upul Abayasekara
By Chamodi Gunawardana

The Democratic People's Front (DPF), Worker's National Front (WNF) and the Up-Country People's Front (UPF) yesterday formed a new political alliance titled Tamil Progressive Alliance (TPA) to focus on issues relevant to the up-country Tamil community.

DPF Leader Mano Ganesan, WNF Leader P. Thigambaram and UPF Leader V. Radhakrishnan signed an MOU signifying the new alliance.


TPA newly-appointed Leader Mano Ganesan noted their main objective would be to fulfill the aspirations of over 1.5 million Tamil people who live in the Central, Western, Uva and Sabaragamuwa Provinces.


"We believe Tamil people who lived in Colombo, Kandy, Badulla, Ratnapura, Kegalle, Puttalam, Matale, Gampaha and Kalutara Districts also have aspirations and problems similar to the Northern and Eastern Tamil people. However these Tamils have no powerful leader to address their needs. We are going to fill that space," Mano Ganesan explained.

He also said that TPA has a special advisory committee to advice its leaders anytime. "We have professionals and politicians who have knowledge about politics and people's needs. They will work as volunteers in our alliance," he added.

Ganesan added that the TPA had no secret agenda to serve only Tamil people.

TPA new Deputy Leader P. Thigambaram addressing the press briefing alleged former President Mahinda Rajapaksa deceived Tamil people by giving false election promises.


"Rajapaksa promised several times that he will provide houses to all up-country Tamil workers but it did not happen. Then this time those Tamil people voted for President Maithripala Sirisena and supported him to win," Thigambaram stated.

Thigambaram also mentioned that some politicians would criticise their new alliance. "However, we formed this alliance to serve Tamil people as well as Sinhala and Muslim communities. We will not stop our journey for any reason," he emphasised.