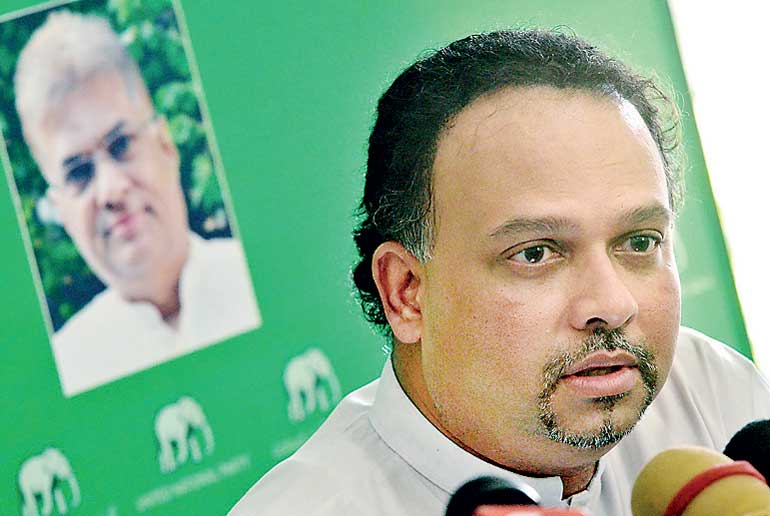 Tourism and Sports Minister Navin Dissanayake addresses the media briefing held yesterday at Sirikotha

- Pic by Shehan Gunasekara
By Chamodi Gunawardana

The United National Party (UNP) yesterday said that neither it nor the Sri Lanka Freedom Party (SLFP) could pass the 20th Amendment for its own interests if it was creating problems for minority parties.

"The UNP and SLFP could not pass 20A in Parliament for its own interests. We should consider minority parties too. If 20A is unfair to all those minorities, we won't give our support to pass it in Parliament. We do not want to create separatism again in Sri Lanka," Dissanayake expressed.

Speaking further, the Minister said that through 20A, the UNP wanted to satisfy minority communities who gave their support to President Maithripala Sirisena during the last presidential election.

"A large number of minority communities placed their trust in President Sirisena and voted for him on 8 January. The Government should treat them fairly. The UNP is expected to do that by passing the best electoral reforms which serve all communities equally. However, the UNP is flexible on this matter," Dissanayake explained.

"The Government's foreign affairs policy is different from that of the past Government. We are cooperating with western countries as well as Asian countries. Then we will allow the Sri Lankan diaspora to engage with the Government but only if they resist separatism," Dissanayake said.

Dissanayake also alleged that former President Mahinda Rajapaksa and former External Affairs Minister Prof. G.L. Peiris did not pay attention to the foreign policy amendments which the UNP proposed.

"We gave our opinions to the past Government as the Opposition but Rajapaksa and Peiris ignored them. As a result, terrorism groups had the opportunity to regroup," Dissanayake claimed.

"Rajapaksa is dreaming about being the next Prime Minister. However, he still has the same group of supporters who engaged in fraudulent activity. Therefore he won't win the next general election if he contests," Dissanayake said.