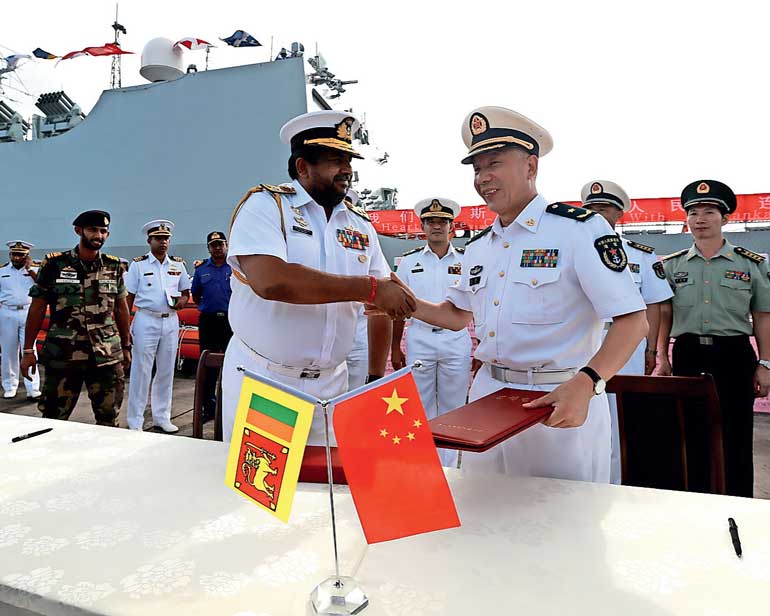 Three ships of the People's Liberation Army Navy (PLA Navy) arrived at the Port of Colombo on Wednesday to provide assistance to Sri Lanka's rescue and relief operations following the country's devastating floods and landslides.

The ships which were initially on a goodwill mission, subsequently focused their attention on relief efforts to help the general public battered by inclement weather, Sri Lanka Navy media said.

Five teams of medical personnel along with 10 small boats aboard these ships are expected to be deployed in relief operations in close collaboration with the Sri Lanka Navy.

The Sri Lanka Navy welcomed the three PLA Navy ships, Changchun, Jing Zhou and Chao Hu in accordance with naval traditions upon their arrival. They are steered by Captain Hu Jie, Captain Wang Hongbing and Captain Zhou Baojun respectively, who are the Commanding Officers.

Chang Chun has a complement of 200 naval personnel onboard including 100 officers. Meanwhile, there are 178 naval personnel including 50 officers aboard Jing Zhou. Chao Hu consists of a crew of 133 naval personnel together with 54 officers.

The Commanding Officers of the visiting ships called on Commander of the Western Naval Area, Rear Admiral Niraja Attygalle at the Western Naval Command Headquarters and they held cordial discussions on matters of the official visit and most importantly the possible relief missions to be carried out focusing on the affected community.

The Ambassador of China in Sri Lanka, Yi Xianliang, senior officers from the naval headquarters, Defence Attaché of the Chinese Embassy in Sri Lanka, Senior Colonel Xu Jianwei and senior officers of the ships were present at the occasion. Subsequently, the Commander of the Navy Vice Admiral Ravindra Wijegunaratne made a visit onboard the ships last evening. A large consignment of relief supplies dispatched by the Chinese Government was officially handed over to the Commander of the Navy. "This noble gesture yet again proved the long and strong camaraderie of the two countries and mutual cooperation between the PLA and SL navies," Sri Lanka Navy said.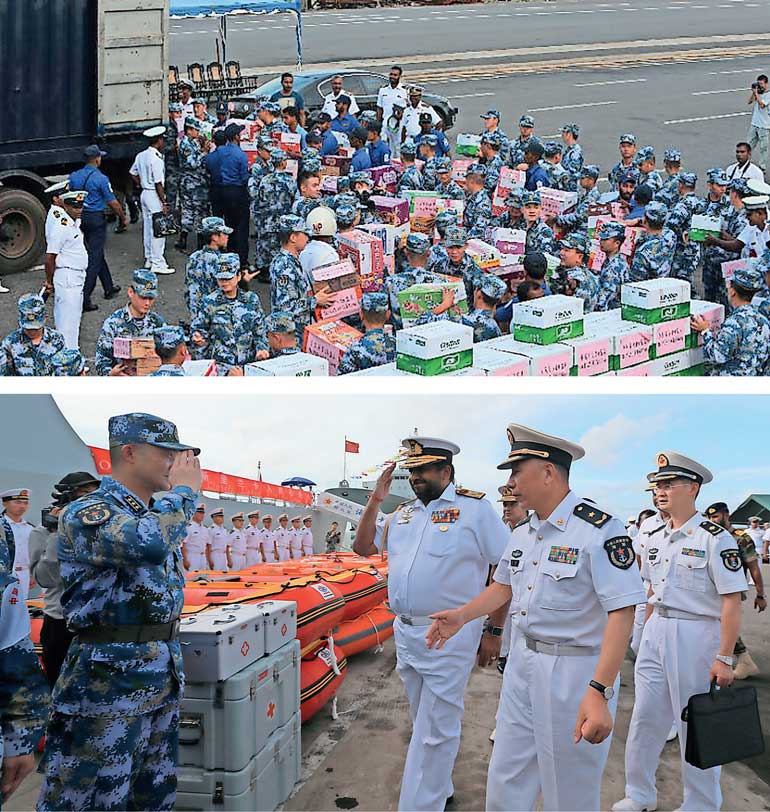 More Chinese aid coming
The Chinese chartered flights carrying disaster relief goods will arrive at the Bandaranaike International Airport on Saturday afternoon.

Chinese Ambassador Yi Xianliang, Foreign Minister Ravi Karunanayake and Disaster Management Minister Anura Priyadarshana Yapa will officiate the handover ceremony.