Good afternoon, thank you all for coming, and for your warm welcome. I am very happy to be with you today as part of my second official visit to Sri Lanka.

Wherever I travel as Secretary-General, I try to meet young people. I want to hear about your priorities and your vision, and to benefit from your creativity and wisdom.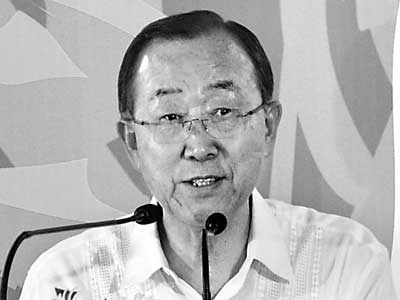 Young people are not only the leaders of tomorrow you are the leaders of today. Your positive approach inspires me and gives me the energy to persevere.

Working for and with young men and women is a priority for the United Nations.

In 2013, I appointed the first-ever UN Envoy on Youth, Ahmad Alhendawi, when he was just 28 years old.

Last July, I launched the Global Partnership to end Violence Against Children – a landmark in our efforts to make sure every child can reach his or her potential free from violence, and with access to justice. I thank the Government of Sri Lanka for its support for this partnership, and for offering to become a Pathfinder Country.

Last month, on International Youth Day on 12 August, I appointed the former Austrian Prime Minister Werner Faymann as my Special Envoy on Youth Employment.

Around the world, the United Nations is working to ensure that every young person has the education, health, employment and rights they deserve.

And the United Nations is building more and stronger partnerships with youth-led and youth-focused organisations to promote peace and development.

I have also been trying to put right one of the most serious injustices: the exclusion of young people from peacebuilding and reconciliation processes. Why should young people be sent off to fight wars, but be prevented from building peace?

To ensure sustainable social justice, especially in countries like Sri Lanka that are recovering from conflict, bottom-up peacebuilding approaches involving young people, women and all sectors of society are crucial.

The United Nations Security Council recognised this last December when it adopted Resolution 2250 on Youth, Peace and Security. The Resolution offers a new policy framework to engage young people as part of inclusive, participatory peacebuilding and reconciliation approaches.

It recognises the role of young people as peacebuilders and agents of change who can break down barriers and reach across cultural divides.

Young people also played a critical role in designing the 2030 Sustainable Development Agenda agreed by world leaders one year ago. They participated in unprecedented numbers in the online consultation that drove the design. This agenda, with 17 Sustainable Development Goals, is our global plan for people, peace, prosperity and the planet.

Many of the goals focus on priority areas for young people: quality education, empowering women and girls, and ensuring decent work for all.

All countries have pledged to bring this agenda to life. I call on young people to lead the way.

All of you can be sustainable development leaders. You may be interested in human rights or justice. You may be fascinated by agriculture or medicine. You may want to care for the elderly or teach in schools. Whatever path you choose, I encourage you to participate in our drive for a sustainable future.

Dear colleagues and friends, in recent years, Sri Lanka has emerged as one of the biggest contributors to the youth agenda.

Your country is a strong advocate for youth development on the international stage. In 2014, Colombo hosted the World Conference on Youth – the first ever to be organised in Asia. At the UN General Assembly, Sri Lanka promoted the celebration of 15 July as World Youth Skills Day – which was inaugurated last year.

Domestically, it is important to continue to increase investment in the young women and men who make up one-fifth of Sri Lanka's population – part of the biggest generation of young people in history.

You are your country's biggest asset. Sri Lanka's future success depends on you.

But most of you were born and lived your early lives during conflict, terror and displacement. Many of you suffered deprivations and injustice.

Involvement in peacebuilding, reconciliation and post-conflict transformation provide an opportunity to emerge from this trauma to play a part in creating a better future.

Young people around the world are often depicted as potential terrorists and easy prey for recruitment by violent extremists. But this distorted picture ignores the reality that the vast majority of young people want to be part of the solution to violent extremism.

Here and around the world, young people long for peace and security, and are among the most ardent proponents of human rights.

Your openness, and willingness to listen, are critical to mutual understanding and peaceful coexistence.

Colleagues, friends, I challenge all of you today to become true global citizens.

Work together with young people from different neighbourhoods, ethnic groups or religions. Share your vision for a sustainable and peaceful future for this country and for our planet.

Take inspiration from your fellow Sri Lankan, Thevuni Kavindi, who I appointed to my Advisory Group on Youth, Peace and Security on International Youth Day this year.

Thevuni is here with us today. Thevuni, would you like to stand? Thank you for your hard work and commitment to peace.

Thevuni is 23 years old, and is playing a leading role in the youth movement that is working to unite young people from all ethnic and religious backgrounds across Sri Lanka to promote reconciliation and lasting peace.

The world needs young leaders like Thevuni – young leaders like you – to remind us of our common purpose now and in the future, as we face conflict, violence, inequality and injustice in many places.

Please continue to prove that Sri Lanka is emerging from decades of adversity, suspicion and divisiveness.

Please lead the way towards rebuilding, reconciliation and an appreciation of diversity in unity.

Thank you.