Sri Lanka has strong interest in strengthening bilateral relations with Jamaica, the new Sri Lankan High Commissioner to the Caribbean country has said.

The Ambassador of Sri Lanka to Cuba Sarath Dissanayake presented the Letter of Credence to the Governor General of Jamaica, Sir Patrick Allen as Sri Lanka's High Commissioner to Jamaica on 11 July, at King's House in Jamaica, the Ministry of Foreign Affairs said.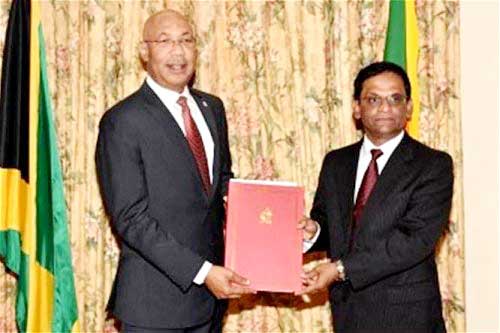 During a discussion held following the presentation, the Governor General of Jamaica congratulated the High Commissioner and wished him all success in his new appointment.

While emphasising the fact that Jamaica and Sri Lanka have shared values and interests as members of the Commonwealth, G 77, NAM, G 15 etc., Sir Allen has underscored the importance of embarking on potential economic ventures mutually beneficial to both countries.

High Commissioner Dissanayake appreciated the Governor General's kind sentiments and conveyed to him, the greetings and best wishes of the President and people of Sri Lanka. He also briefed the Governor General on the Government's efforts for strengthening peace, democracy, the rule of law, socio-economic empowerment of people.

The envoy also expressed Sri Lanka's strong interest and commitment to further deepen relations and cooperation with Jamaica during his tenure.

The High Commissioner also met with the Minister of Foreign Affairs and Foreign Trade Kamina Johnson Smith and exchanged views on matters of mutual interest to both countries. A proposal made by the High Commissioner to consider appointing an Honorary Consul for Jamaica in Colombo was noted with interest. The Jamaican Minister appreciated the role played by Sri Lanka during its tenure as Chair of Commonwealth and G 15.

High Commissioner Dissanayake also met with the Ministers of Industry, Commerce, Agriculture and Fisheries, Labour and Social Security, Tourism and Chairman/Jamaican Chamber of Commerce and discussed opportunities to further promote economic interests and cooperation. The Jamaican dignitaries spoke highly of Sri Lanka's rapid pace of development and its potential to emerge as an economic hub in the South Asian region.