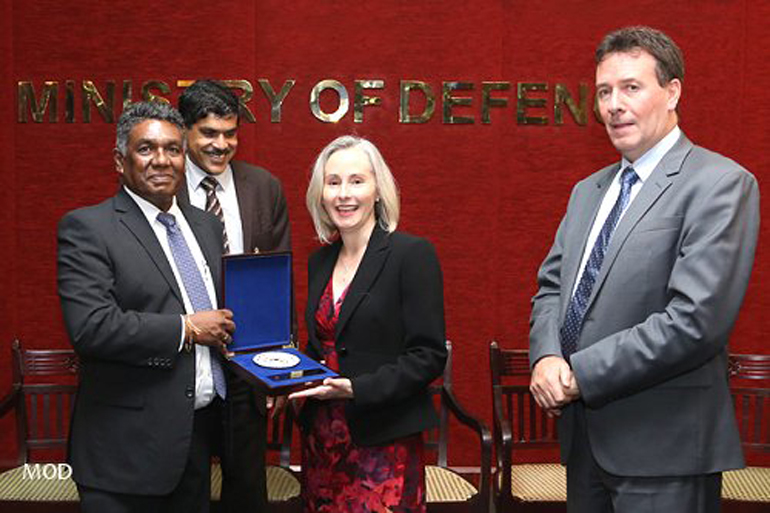 Sri Lanka and Australia discussed combatting people smuggling and other transnational crimes during the third meeting of the Sri Lanka- Australia Joint Working Group (JWG) on People Smuggling and Other Transnational Crime held on 14 June at the Ministry of Defence in Colombo.

The JWG launched in 2012 has opened a new chapter in cooperation between the two countries enabling a structured dialogue focused on combatting people smuggling and other transnational crime.

In his opening remarks Secretary to the Ministry of Defence Karunasena Hettiarachchi said that continued information and intelligence sharing and coordinated efforts enabled Sri Lankan authorities to successfully disrupt many people smuggling ventures directed towards Australia. He added that the political commitment that underpinned the cooperation under the JWG remained strong. Speaking on the broader context of engagement between the two countries Australian High Commissioner to Sri Lanka Bryce Hutchesson referred to the rich people-to-people relationships between the two nations and the robust investment and trade ties that exist.

The High Commissioner also made reference to several discussions held with the Defence Secretary on taking forward the defence and strategic relationship between the two countries.

Deputy Secretary (Policy), Department of Immigration and Border Protection of Australia Rachel Noble and Additional Secretary (Defence) to the Ministry of Defence S. Hettiarachchi co-chaired the JWG Meeting.

The Deputy Secretary said that Australia remained incredibly grateful to Sri Lanka, for the exceptional cooperation extended in combatting people smuggling over the years, as one of Australia's strongest partners. She added that given the linkages between people smuggling ventures, organised crime and terrorism, the two countries cannot afford to be complacent but must continue to keep alert.

The range of issues discussed at the meeting included counter-people smuggling cooperation including in areas such as intelligence, policy, detection, disruption and returns, strategic communications (public awareness), and the proposed expedited mechanism for removals from Australia; other maritime cooperation including combatting transnational crime at sea (including piracy), search and rescue and safety of life at sea; legal cooperation in areas such as investigation and prosecution of people smugglers and strengthening and harmonising anti-people smuggling legislation; Bali Process and regional cooperation including progress on the Colombo RILON process (Regional Immigration Liaison Officer Network), and immigration and border management issues such as border management capacity building and opportunities for future cooperation.

Discussions were also held on a proposed MoU in the field of people smuggling and other transnational crime.

The two sides acknowledged the extensive progress that has been made under the JWG and agreed to continue to strengthen cooperation in the future.

The fourth Meeting of the JWG will be held in Australia in 2017.

Senior officials from the Ministries of Defence, Law and Order, Foreign Affairs and Justice, Attorney General's Department, senior tri forces and Coastguard officers were also present at the meeting.