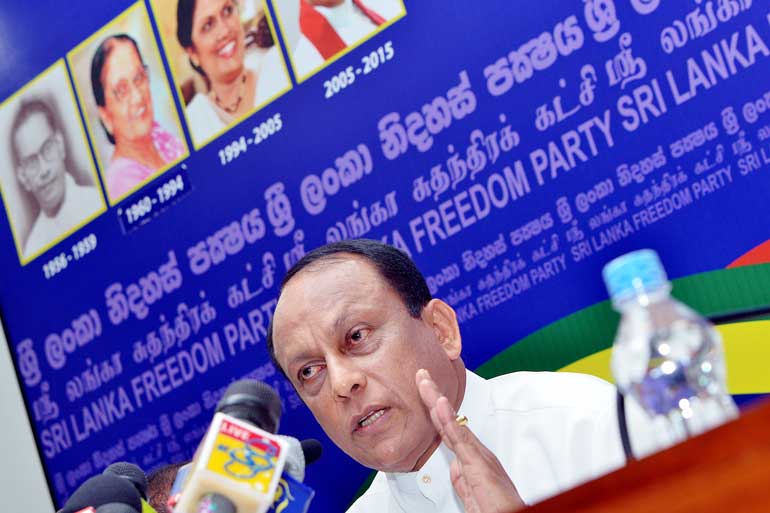 By Chamodi Gunawardana

The Sri Lanka Freedom Party (SLFP) expects to draw 50,000 people to the party's 65th convention to be held on 4 September in Kurunegala, State Finance Minister Lakshman Yapa Abeywardena said on Thursday.

Speaking at the SLFP weekly media briefing, Yapa stated that the calculation was made without considering party heads, district leaders, district organisers, provincial councillors and provincial council members.

"The party's Central Committee has directed that each organiser can only bring between 100 and 250 people from each electorate and that amount should not be exceeded. We have limited participation due to the lack of facilities at the Kurunegala Maligapitiya ground," he expressed. "Otherwise we can gather any amount of supporters for the anniversary celebration," he added.

Yapa added that approximately 2,000 buses had already been booked to transport people from each district to Kurunegala.

"However, the majority of the participants will be from the Kurunegala District," he said.

Last week the Joint Opposition claimed that the SLFP had invited former President Mahinda Rajapaksa for the anniversary to attract people who respected Rajapaksa.

Refuting this notion, Yapa said the SLFP convention was for true supporters who respected the party's ideologies more than a single person.

Meanwhile, Western Province Chief Minister Isuru Devapriya said seven Chief Ministers from nine provinces would definitely be attending the convention to indicate their contribution towards the party's progress.

When reporters asked whether SLFP heads hoped to welcome SLFP MPs representing the Joint Opposition, Devapriya said they were always welcome.

"If any Joint Opposition SLFPer participates in the anniversary I will offer my seat to him," he noted.

Furthermore, Devapriya claimed that the United National Party (UNP) had conspired to sabotage the convention.

"A group of UNPers in the Kurunegala District has stated that the SLFP has invited UNP supporters in the area to participate in the convention in order to enlarge the crowd. We really do not need UNPers to make our anniversary a success. We already have secured an excess of supporters," he said.