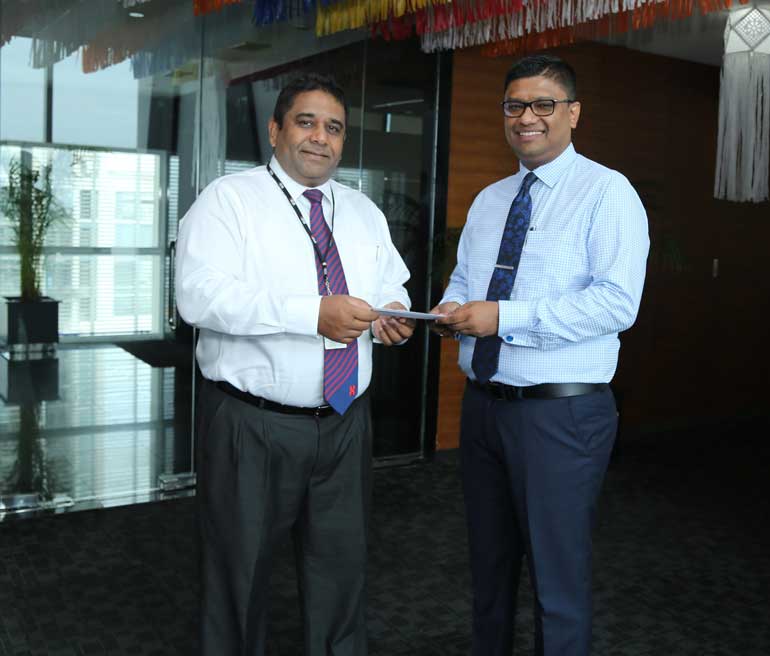 Seylan Bank Director/CEO Kapila Ariyaratne handing over the bank's financial contribution to EBC network Senior Vice President and COO Chalaka Gajabahu
Seylan Bank, 'The Bank with a Heart', is at the forefront of assisting people affected by the disaster. Seylan Bank has partnered with the EBC Network to assist the public who have been affected by the flood situation. The bank has made a sizable financial donation to the notable 'Sathkara' aid program, which is directed towards relief operations amongst the flood victims. Further, the bank staff will be joining with the 'Sathkara' team to visit displaced victims and donate the items bought with these funds.

Being mindful of the suffering of many across the country, the bank's annual Bhakthi Gee and Ice cream Dansala have been postponed, and the respective funds have been directed towards providing relief to the disaster victims.

Seylan Bank is also appealing to the general public who are willing to donate money or dry rations or help those affected. Interested parties can reach out to the aid effort by donating funds to a special account created to support the victims via Seylan Bank account number – 0 860 33480033001 – EBC Sathkara.

Seylan Bank has also introduced an SMS service for its credit card holders, whereby card holders can assist the flood relief effort by donating via an SMS, Seylan card holders simply need to type 'DONATE100 and SMS to 0112008888'. The bank's island-wide network of 167 branches are designated collection points for dry rations and water bottles, which is another way for people to contribute during normal banking hours. Otherwise, the public can donate to the bank's 365-days open branches which are located in Kelaniya, Wennappuwa, Galle, Matara, Wellawatta, Panadura and the Millennium branch at the bank's headquarters in Kollupitiya.

Seylan Bank is closely engaged with its stakeholders and is proud to play a pivotal role in bringing relief to those suffering at the time of this national disaster.