Publisher Vijitha Yapa and author Chandrani Warnasuriya recently presented her book on Sri Lanka to President Maithripala Sirisena at the Presidential Secretariat.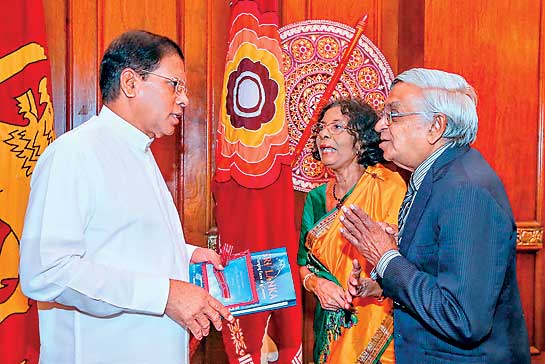 The book, titled 'Sri Lanka Changing Faces of a Country' draws attention to the unique wealth and beauty of the country and the facelifts and change in orientations it has witnessed through the centuries.

It effectively traces the country's historical growth and political and socio-economic transformations and gives a vivid picture of its culture, conveying a vast array of information and solid background knowledge for the general reader as well as for the curriculum-based studies of children.

The hardcover book is printed in colour with lavish photographs and is up to date, including the election of Maithripala Sirisena to the presidency.