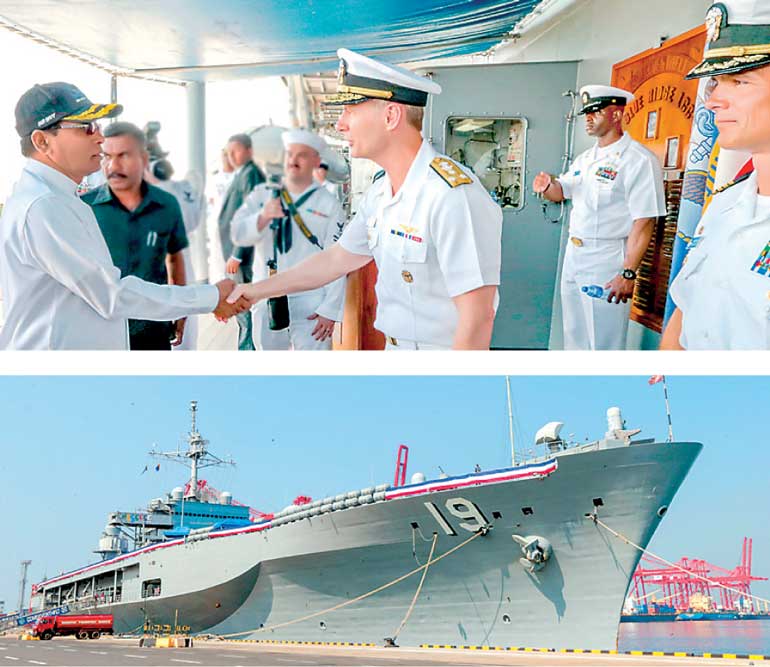 President Maithripala Sirisena yesterday visited the United States Navy Ship USS Blue Ridge, which had arrived at the Colombo Port last week for a goodwill visit.

The President was warmly received with a U.S. Navy military guard of honor when he arrived at the ship. U.S. Ambassador to Colombo Atul Keshap joined President Sirisena on the tour.

The USS Blue Ridge, flagship of the U.S. Navy's Seventh Fleet, arrived in Sri Lanka Saturday, 26 March, the first visit by a U.S. Navy ship since October 2011.

The visit aims to build upon last month's Partnership Dialogue in Washington D.C., where both nations pledged to strengthen maritime security cooperation efforts in the Indian Ocean Region in order to counter piracy, provide humanitarian assistance, and ensure free and safe navigation in the region's vital shipping lanes, according to the U.S. Embassy in Colombo.

During the ship's five-day stay in Colombo, the Blue Ridge team consisting more than 900 sailors will engage with their Sri Lanka Navy counterparts in a naval exercises, experience Sri Lanka's vibrant culture, and engage with the people. The sailors will also use their shore leave to volunteer at a community center by refurbishing its walls and furniture, building playground equipment, and serving food to the needy.

While in Colombo sailors from the Blue Ridge also staged free public performances in Colombo, including a joint performance with the Sri Lanka Navy, Army, and Air Force bands.