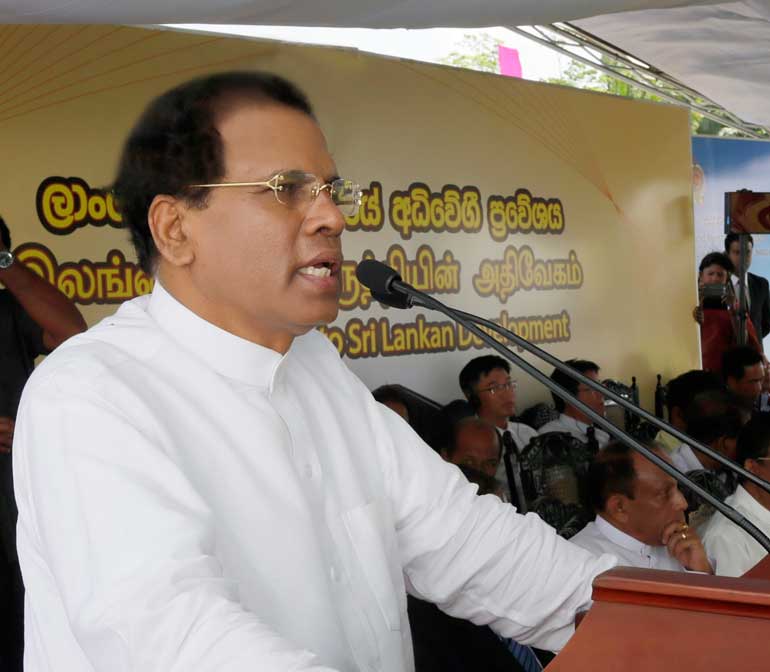 President Maithripala Sirisena today pledged that he would not allow room for the "silent revolution" achieved on 8 January to be reverse and family rule to return.

The President made this comment on Saturday at a ceremony to launch the construction of the Matara-Hambantota segment of the Southern Expressway.

Speaking publicly for the first time after Friday's announcement that former President Mahinda Rajapaksa would be given a nomination to contest at the forthcoming general election under the UPFA ticket, the President said he would not let any party decision harm the transformation which took place with his election on 8 January.

"I will not let any party decision tarnish or harm the transformations that occurred in this country after 8 January. I will protect it," he said without referring to the UPFA General Secretary's statement yesterday that the former President would be granted nominations from the UPFA.

The President, pointing out that he did not take the leadership by accident and his political experience spans over 49 years, said he would ensure that justice prevailed in the country.

President Sirisena said that he would not allow family rule to return again and he would ensure corruption was eliminated and good governance was preserved.

The President inaugurated the construction work on the extension of the Southern Expressway from Matara to Hambantota today at the Nilwala Entrance to the expressway at Godagama in Matara.

UNP General Secretary and Highways Minister Kabir Hashim, Mangala Samaraweera, Mahinda Amaraweera, Lakshman Yapa Abeywardena, Southern Province Chief Minister Shan Wijeyalal de Silva, Chinese Ambassador to Sri Lanka Yi Xianliang and several other politicians and senior state officials were also present at the event.