President Maithripala Sirisena yesterday lauded the contribution of the island nation's Air Force to eradicating LTTE terrorism and safeguarding the country.

"The Sri Lanka Air Force, demonstrating its specific skills, weakened the enemy by attacking them directly when the Army and Navy were facing difficult situations in the operation to eradicate LTTE terrorism in the last few decades," President Sirisena said.

Speaking at the passing out ceremony of Air Force Cadet Officers, held on Monday at the Air Force Camp in China Bay, the President expressed his satisfaction over the high standards and quality of the Air Force.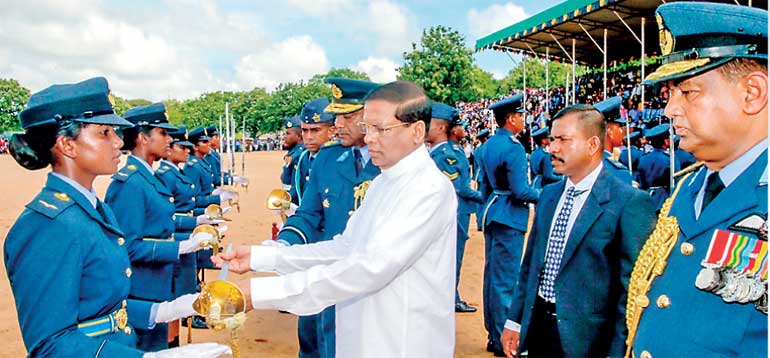 The President, participating in the event as the Chief Guest, commissioned 46 male and female Cadet Officers of the batch number 55 and number 7 respectively. He also pinned Flying Official Badges to eight officers of the 83rd Flying Cadet Officer Course.

At yesterday's event, 594 airmen and women - who successfully completed the courses of permanent junior Airmen of Batch number 161 and permanent junior Airwomen of Batch number 31 – passed out.

The President spoke about the war heroes who sacrificed their lives for the country and those who were left disabled by the conflict. He also paid tribute to the relatives of war heroes for their great service to the country.

Speaking at the event, President Sirisena said that the Sri Lanka Air Force rendered an excellent service to protect the sea boundaries of the country and had earned respect for fulfilling their duties with great commitment during the past few decades.

The President expressed confidence that in the future too the officers of the Sri Lanka Air Force would fulfil their duties regarding national security in a similar manner with the guidance of the new Commander of the Air Force. He also pledged to provide required new technology and facilities to fulfil their duties in a perfectly satisfactory manner.

Eastern Province Governor Austin Fernando, Commander of the Sri Lanka Air Force Air Vice Marshal Gagan Bulathsinhala, Dean of the Sri Lanka Air Force Academy China Bay Air Commodore Sagara Kotakadeniya and officers of the Sri Lanka Air Force Directors Board participated in the event.