By Chamodi Gunawardana

The Pivithuru Hela Urumaya (PHU) yesterday alleged that Prime Minister Ranil Wickremesinghe had abused the powers of Speaker Karu Jayasuriya.

PHU Leader Udaya Gamma-npila claimed that the Prime Minister was unaware of standing orders and procedures of Parliament while being the country's senior politician.

"According to parliamentary procedures only the Speaker has the power to allow MPs to speak. When the Speaker nominates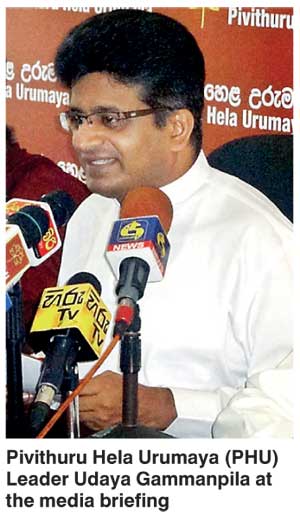 somebody, he or she can deliver the speech. However, Wickremesinghe has misused the powers of Speaker and told some MPs to leave the House. We would like to remind him that it was none of his business," he said.

Denying allegations made by Prime Minister Wickremesinghe, Gammanpila asserted that he did not violate parliamentary standing orders or procedures.

"The United National Party (UNP) spread rumours over my address in Parliament. A UNP press release had mentioned that due to a violation of procedures, my speech was removed from the Parliamentary Hansard report. I deny all those allegations," he stressed.

Commenting about the new ministerial portfolios, Gammanpila said: "President Maithripala Sirisena mentioned in his 100-day plan that he would appoint ministers through a scientific method. We could not identify the criteria they used to combine different sectors into one position, such as a Higher Education and Road Development Minister," he said.

Speaking about a war crimes investigation mechanism guided by the Office of the High Commissioner of Human Rights, Gammanpila said: "We have established a special foundation to provide free legal consultation for all army officers who are summoned by the Human Rights High Commissioner. Several senior lawyers are waiting to provide advice," he noted.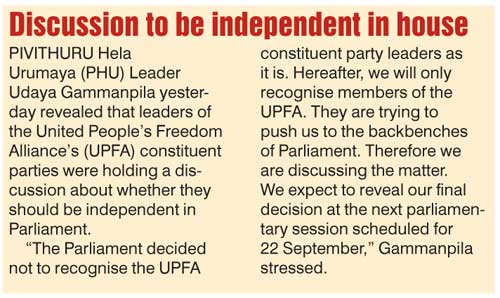 Speaker should be practical about Opposition leadership
Pivithuru Hela Urumaya (PHU) Leader Udaya Gammanpila yesterday asserted that Speaker Karu Jayasuriya should make a "practical decision" about the leader of the Opposition.

"The Tamil National Alliance (TNA) Leader R. Sampanthan became the Opposition Leader with fewer seats than the UPFA. The UPFA remains the majority party in the Opposition. We expect to convey our opinions about the leadership to the Speaker when Parliament next assembles. We hope he will make a practical decision over the issue," Gammanpila said.