Prime Minister Ranil Wickremesinghe says the main objective of establishing Sectoral Oversight Committees is to empower the parliament by transforming the entire legislature into a government.

Addressing a workshop held in the parliament complex on Monday to enlighten the Members of Parliament on Sectoral Oversight Committees, the Premier explained that the cabinet of ministers as well as other members of the parliament will be given the power to take decisions on the problems faced by the country.

The three-day workshop from 15 to 17 February is held under the patronage of the Speaker Karu Jayasuriya with the participation of a delegation of UK parliamentarians led by Labour Party MP Fiona McTaggart.

Delivering the keynote address on the opening day of the workshop, Prime Minister Wickremesinghe said these committees should have the power to summon chief ministers and provincial ministers before them. He also pointed out the need of opening them for the general public.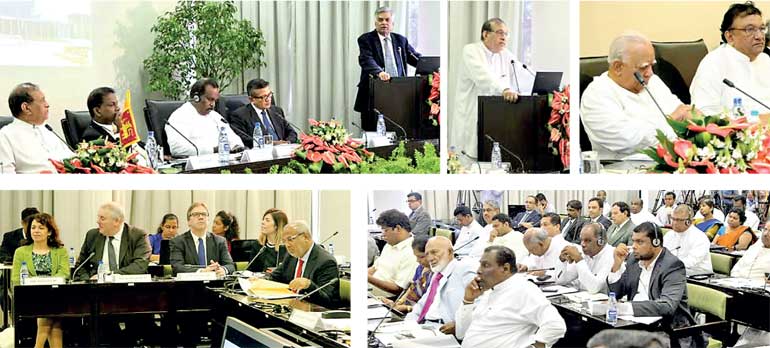 He said a stable and strong Parliament would help to accelerate the ongoing development drive in many spheres and also would be a catalyst in uniting differing sections in society on political, religious, and ethnic grounds.

The overview of parliamentary reforms, aspirations for the Committee System within the current Parliament, overview of the established powers of Sectorial Oversight Committees and Committee on Public Finance, the role that the UK Parliament can play in supporting these reforms and the overview of the UK Committee System are on the agenda for the first day.

Sri Lanka's Parliament in December last year resolved to suspend Standing Orders that set guidelines for consultative committees which oversee the ministries of the government and instead approved establishing Sectoral Oversight Committees and Committee on Public Finance. These committees will be chaired only by the parliamentarians.

Speaker Karu Jayasuriya who addressed the gathering said the main objective of establishing Sectoral Oversight Committees is to obtain the opposition support for the country's administration. Such committees will help to share the powers between the government and the opposition. The speaker was of the view that the initiative will further strengthen democracy.

Opposition leader R. Sampanthan, leader of the house Minister Lakshman Kiriella and number of parliamentarians were present on the occasion.