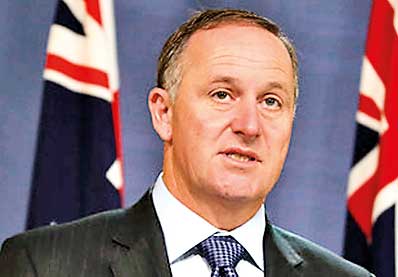 Prime Minister of New Zealand John Key will arrive here tomorrow for an official visit.

Prime Minister John Key will be received at the Presidential Secretariat on 24 February and will hold bilateral discussions with President Maithripala Sirisena. The Prime Minister will also hold talks with Prime Minister Ranil Wickremesinghe during the visit.

The visit will highlight the strengthening of political and economic ties between the two countries. Prime Minister Key accompanied by a business delegation from New Zealand is expected to address the Ceylon Chamber of Commerce on 25 February. The Prime Minister will inaugurate the opening of the Fonterra Demonstration Farm and Training Centre in Pannala.

During the visit Prime Minister Key will also chair a meeting of the Executive Committee of the International Democrat Union.