The Government's policies are being implemented on three main pillars: democracy, reconciliation, and development, newly appointed Finance and Mass Media Minister Mangala Samaraweera.

The Minister made these comments addressing staff of the Ministry of Mass Media, Department of Government Information and other representatives from affiliated institutions yesterday.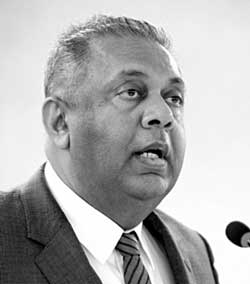 He requested the support of every media organisation for the successful implementation of the Government's development drive despite the differences in race, religion and politics. Sri Lanka has one of the most active media in the region, he added.

The Government has already started the process of giving executive powers to Parliament, said Samaraweera, adding that the Yahapalana administration always listens to the voice of every community. No country can go forward if it is divided, he said.

Although Sri Lanka was a country which could've become a developed nation after winning independence in 1948, said Samaraweera, not taking the right decisions at the right time due to various divisions disrupted it. The Minister said that the Government is plans to establish an Education Authority and by establishing private universities the children of the country will get education while about 30 -40% will win scholarships too. The Minister further said that many powerful countries in the world extend invitations to President Maithripala Sirisena and Prime Minister Ranil Wickremesinghe as they are maintaining a friendly foreign policy with all countries and Sri Lanka should use this opportunity for the development of the country.