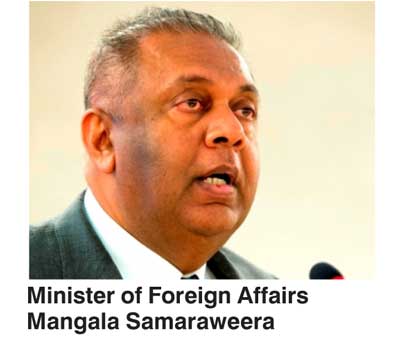 Minister of Foreign Affairs Mangala Samaraweera in a startling revelation said that the leaders of Liberation Tigers of Tamil Eelam (LTTE) paid money to a defence official of the previous government to obtain safe passage out of the country.

Minister Samaraweera said over 200 LTTE members, who have paid an official of the Ministry of Defence and left the country during the last week of the war in May 2009, are now listed as missing persons.

The Foreign Minister said several prominent LTTE leaders were among those who bought their way out. The Minister said an investigation is underway into the matter and the newly established Office of the Missing Persons (OMP) will be able to disclose the information on them.

Minister Samaraweera made these remarks at an awareness program held to enlighten the heads of media institutions on the establishment of the Office of the Missing Persons and government's program to build reconciliation.

Dismissing the allegations that the OMP will betray the soldiers, Minister Samaraweera said certain parties in the opposition are spreading misconceptions regarding the Office of Missing Persons.

The Minister pointed out that by alleging that the OMP will betray the army, the opposition is saying to the world that the army is behind the disappearances.

"They tell the world the army is behind the disappearances, but we don't know who is behind," the BBC Sinhala Service quoted the Minister.

Minister Samaraweera said as a part of the government's program, the Commission for Truth, Justice, Reconciliation and Non-Recurrence will also be tabled in Parliament before the end of the year.

The Minister further said that a program will be launched to obtain the views of the public on a truth commission and the government hopes to table those views as a new bill in October. If not possible to bring the bill before the budget debate, it will be tabled in January, the Minister added.

The Foreign Minister said if the commission finds any violations, a domestic judicial mechanism will be established to probe the incidents. The Minister stressed that the domestic judicial mechanism will not involve foreign judges.

He said it is too early to decide the manner in which the domestic judicial mechanism would operate.

The Minister stressed that the support of the media organizations is needed for the government's program to bring reconciliation among the communities and urged the media not to give wide exposure to extremist views that mislead the public.