The Young Political Leaders' Forum, Sri Lanka (YPLF) is pleased to announce the launch of its official website which is accessible under the following link: http://yplfsl.com/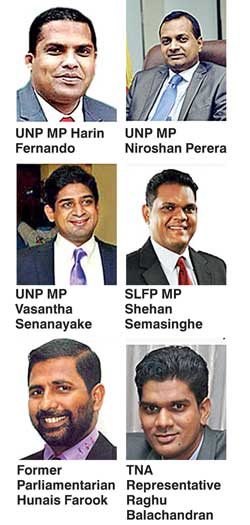 The website showcases information on the work conducted so far by the group. It also includes the various statements and calls published by YLPF over the past few years.

YPLF is a cross-party group of committed young parliamentarians and political leaders representing multi-ethnic, multi-religious and multi-constituency interests across the island and beyond individual party ideologies. The group was initiated in 2011 with the support of International Alert, Sri Lanka and the One Text Initiative.

The Forum currently comprises UNP MP Niroshan Perera, UNP MP Harin Fernando, UNP MP Vasantha Senanayake, SLFP MP Shehan Semasinghe, former Parliamentarian Hunais Farook, and TNA Representative Raghu Balachandran.

Over the past four years, the group was able to create and sustain a positive dialogue with some of the most marginalised segments of the Sri Lankan society. Its primary engagements include:

Engaging with overseas Sri Lankans in the UK,

Promoting a better implementation of the Lessons Learnt and Reconciliation Commission (LLRC) recommendations,

Developing a constructive dialogue on the need to further engage women in politics, and Fostering youth participation in policy formulation/implementation.

As a collective, YPLF aims to play a positive role in supporting sustainable development, as well as the ongoing reconciliation process in Sri Lanka.