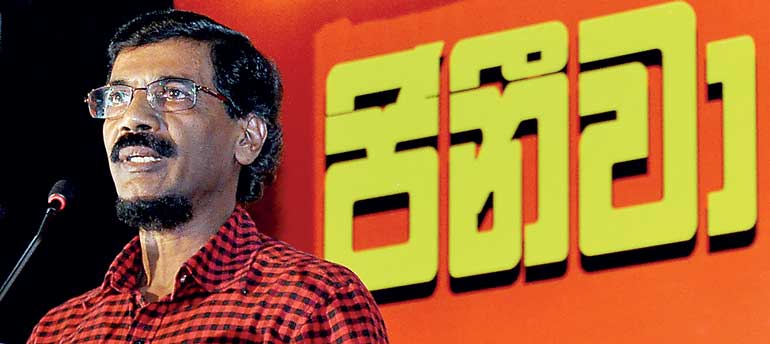 JVP General Secretary Tilvin Silva conducting the lecture

– Pic by Shehan Gunasekara
By Chamodi Gunawardana

The Janatha Vimukthi Peramuna (JVP) yesterday asserted that the risk over the establishment of international mechanisms into war crimes investigation is still remains.

Conducting a public lecture called 'Geneva Yesterday, Today and Tomorrow', JVP General Secretary Tilvin Silva stressed the resolution co-sponsored by the US and Sri Lanka, which passed in the United Nations Human Rights Council (UNHRC), at Geneva is calling for a special consultancy office comprised with foreign officials.

"The proposed office will have UN judges, lawyers and observers in order to guide country's judicial system. We would like to ask the Government what are differences between this and the hybrid court concept," he charged.

Silva went on to say that 'western imperials' led by the US, raised war crimes allegations to pave the path for enter the country.

"The UN has been applied this same trick to subjugate independent countries such as Sri Lanka. They search what the internal matters of such countries are and propose solutions being a third party. Eventually the UN obtains the opportunity to interfere in domestic issues," he claimed.

Criticising the present and past regime's war crimes investigation strategies, Silva alleged that the UN did not find a chance to involve domestic matters, had both Governments solved them prior, on a local level.

"Past regime neglected to establish a proper investigation mechanism into human rights violations and the current Government kneeled before the UN. Finally western imperials used the situation for their own interest," he charged.

"The Government has treated the US resolutions as a victory, but it will drive Sri Lanka toward danger in reality," Silva said.