The cooperative movement in the north reached another milestone when the newly-constructed cooperative complex of Vinayagapuram Farmers' Cooperative Society of Mulankavil in Poonakary Division, Kilinochchi District was officially handed over to the cooperative by Subinay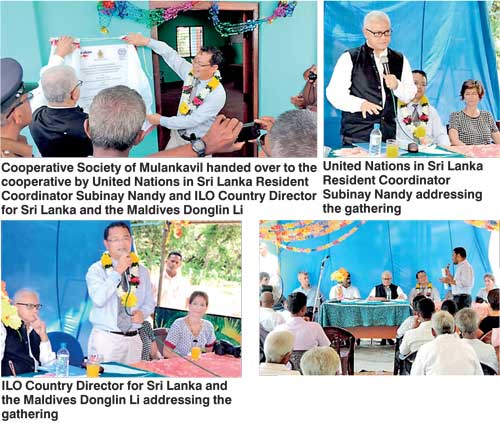 Nandy, the Resident Coordinator of the United Nations in Sri Lanka, and Donglin Li, ILO Country Director for Sri Lanka and the Maldives on 8 June.

The cooperative complex comprised of an office building and an agriculture service centre together with a model organic farm. The cooperative was built as a part of a support program of the ILO implemented Local Empowerment through Economic Development (LEED) project in the Northern Province, funded by the Government of Australia.

In early 2014 the cooperative in Mulankavil entered into commercial cultivation of red lady papaya, passion fruit and other crops such as cassava through the support and facilitation of the LEED project. So far the members of the cooperative have produced and sold 80 MT of pro organic red lady papaya to three exporters, bringing the income of about Rs. 2.5 million to the local economy.

Addressing the members of the cooperative, Subinay Nandy, the Resident Coordinator of the United Nations in Sri Lanka, highlighted: "Among many other priorities that the United Nations has been addressing in Sri Lanka such as human rights currently our key focus is on development in terms of economic livelihood which mainstreams gender, creates employment and increases income of people."

Nandy also mentioned all the UN agencies as one single family has joined forces to materialise these priorities on the ground, mainly in the post conflict Northern Province of Sri Lanka. He further highlighted the importance of increasing the role of women in the development process as active partners.

Speaking at the occasion, Donglin Li stressed: "The ILO's support to the cooperative sector in different dimensions has empowered the cooperative societies in the project districts of the north to create stronger market linkages while also increasing their bargaining power with buyers and exporters. Now it's the time the cooperative societies stand stronger on their own and work out the ways of sustaining these market linkages and improve further in terms of delivering services to members. The ILO is committed to further strengthen the cooperative movement in the North through different initiatives."

The handing over of the cooperative complex to Vinayagapuram Farmers' Cooperative Society was one of the initiatives that ILO LEED project has been implementing to develop the local economies in Kilinochchi, Mullaitivu and Vavuniya Districts. Members of the United Nations Country Team in Sri Lanka, members of the cooperative society and the people of Mulankavil were also attended for the occasion.