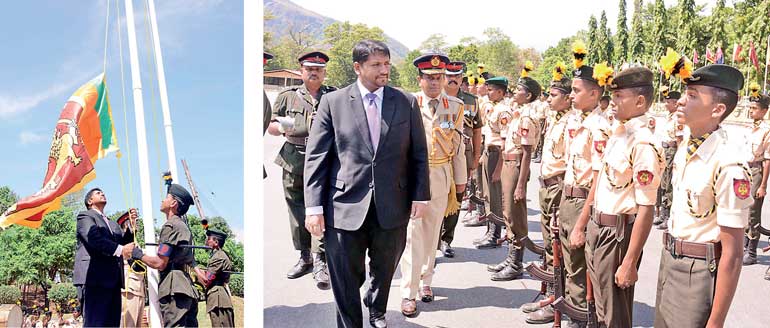 Junior Cadet Training' which ceased to continue from the year 1980 was resumed yesterday with the patronage of the State Minister of Defence Ruwan Wijewardene at the Sri Lanka National Cadet Corps (NCC) Training Centre in Rantambe. Here the Minister inspects the parade. NCC Director Major General A.K.P. Wickremesinghe was also present – Pix by Pradeep Pathirana
The government will be receptive to the issues of the Tamil people in the North and East and work towards finding solutions but will not yield to the extremism, State Minister of Defence Ruwan Wijewardene said.

Referring to the Ezhuka Tamil (Rise Up Tamils!) protest march and rally held in Jaffna yesterday by the Tamil People's Council led by the Chief Minister of Northern Province C. V. Wigneswaran, State Minister Wijewardene said the government will not agree to remove Army camps in the Northern Province as the extremist Tamil groups demand.

Addressing the inauguration ceremony of the Junior Cadet Training Course at the National Cadet Corps (NCC) training centre in Rantambe on Sunday the State Minister stressed that the government will not reconsider withdrawing the military from the North.

Referring to the demand made by the protesters to remove army camps from the North, the State Minister said the government wanted to preserve peace and ethnic coexistence and when it is taking utmost efforts to establish reconciliation among the races and religions, such extremist activities cannot be accepted. The government will ignore the voices of extremism as it completes its plans, the Minister said.

"We would like to stress that the government will not remove our Army camps," he said. "Whatever the demand the protesters come up with, the government will go ahead with its reconciliation process."

State Minister Wijewardene stressed that despite the obstacles created by the extremists the government will not falter in the face of their shouts and will return in the correct path it has taken for peace and reconciliation.

In a separate statement, the UPFA General Secretary Minister Mahinda Amaraweera said the government strongly condemns the statement made by Northern Provincial Council Chief Minister C.V. Wigneswaran at the rally yesterday.

Meanwhile, scholarly and far sighted independent Tamil observers, writer Sivarasa Karunagaran and researchers Rajan Hoole and Ahilan Kadirgamar, have viewed the Chief Minister's rally as more of an attempt to gain power and position in Tamil nationalist politics rather than a genuine attempt to find a realistic and sustainable solution to the Tamil question.

They have expressed fear that the extremist demands made without thinking through the consequences will be destructive and hurt the Tamil cause as in the past.