Minister of Provincial Councils and Local Government Faiszer Muthapha this week kicked off a nationwide initiative to make Sri Lanka dengue free.

He made this comment during a discussion detailing the initiatives which are to be brought into action to ensure that all provinces are Dengue free zones.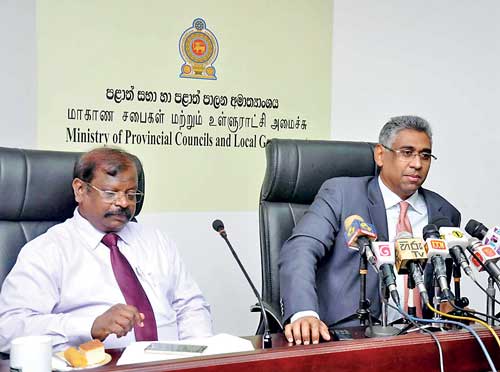 Addressing the gathering Minister Musthapha said "48% of all dengue patients are school children below 19 years of age. They are the future of our country and it is our responsibility to protect them from this dengue epidemic. Therefore we must all unite and put our differences aside. I also like to remind you that it is the responsibility of principals of schools to ensure that all schools are dengue free zones. They cannot shirk this responsibility. We are taking steps to inspect all schools with the aid of Urban Councils. If we find any dengue breeding places, legal action will be initiated irrespective of their positions. However, I do not say that just by filing action against principles, this problem will be solved. Solutions have to be found. All must get together with commitment. Children must be told how to keep the school and home environment clean. But such things do not happen in any school. Another special issue is that there is a dengue breeding hazard in construction sites. As such, all Local Authorities have been instructed to take stern legal action against the owners of such sites."

The Minister also listed the program that was launched to have surprise inspections at schools to identify any possible dengue breeding places. Representatives of the Ministry of Defence, The Chief Medical Officer of the Colombo Municipal Council, Dr. Ruwan Wijeyamuni and other officials too participated at this meeting. The main aim of this program is to make all school premises dengue free zones. There are a large number of school children who are victims of the dengue epidemic.

Minister Musthapha said he has taken action to advise all local authorities to pay special attention to prevent dengue from spreading in schools as this will have serious consequences. Further all construction sites in all areas will be subject to daily inspections as information has been received that these sites are high risk mosquito breeding areas. The Minister also informed the authorities to shut down such sites if dengue breeding places are found at these construction sites.