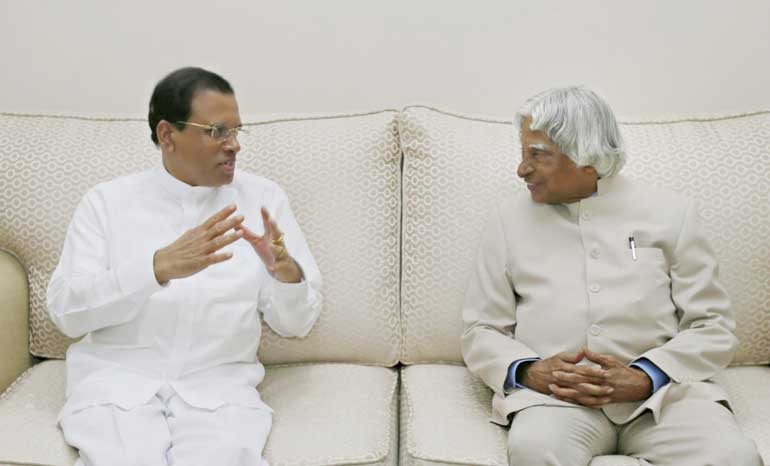 Former Indian President Abdul Kalam praised President Maithripala Sirisena and the present Government for increasing domestic food production, dealing with the drug menace and protecting the environment.

He made these observations when he met President Sirisena at the Presidential Secretariat yesterday.

He expressed his happiness over meeting such a great leader and recalled the longstanding relations between Sri Lanka and India.

During this meeting, matters of mutual interests of the two countries were discussed. Kalam also commended the progress made by Sri Lanka, especially its gains in the tourism sector.

President Sirisena said that he would take action to locally produce food, fruits and medicine which are currently being imported by Sri Lanka and attempt to be self-sufficient in those items within the next three years. He stated that the country hoped to be self-sufficient in oil and gas, making the best use of oil and gas resources in the country.

The President further stated that more attention would be paid to preserving the environment and natural resources. He said that a national program would be implemented to save society from the drug menace.

The former Indian President expressed his appreciation over those matters and said it would be important not only for Sri Lanka but also for the entire region.

The two leaders exchanged ideas on further cooperation in the fields of science and technology.

Dr. Kalam presented two books written by him to President Sirisena. The President also presented a souvenir to the former Indian President.

Minister Patali Champika Ranawaka and the Indian High Commissioner to Sri Lanka, Y. K. Sinha, were also present at the occasion.