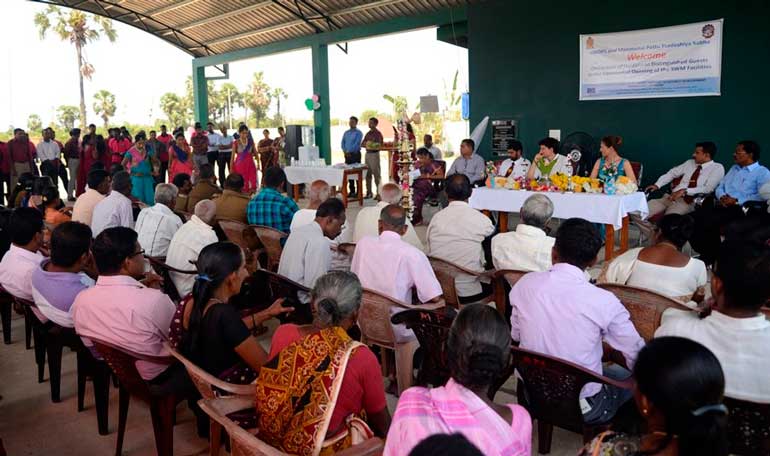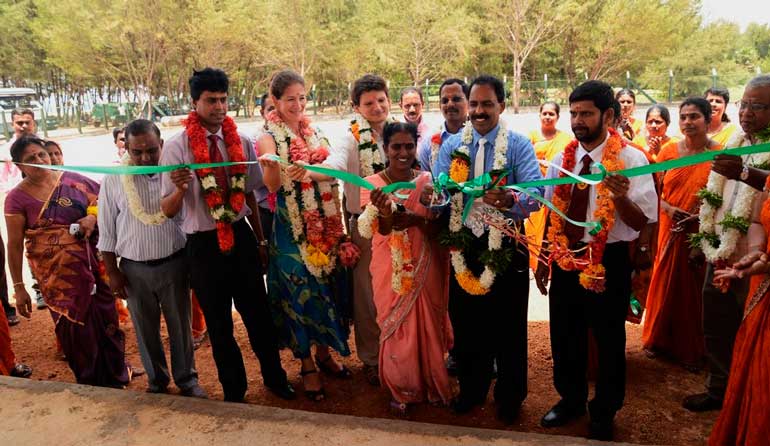 The European Union (EU) and the United Nations Office for Project Services (UNOPS) handed over two newly constructed compost facilities to the respective Paradeshiya Sabha in the Batticaloa district on 6 May. The compost facilities, located in Arayampathi and Kaluthavelai, were built at a cost of Rs. 7 million and 8 million respectively, and each of them has the capacity to process 12 tons of biodegradable solid waste per day, with the new facilities benefitting more than 32,000 people in the Manmunai Pattu Pradeshiya Sabha and 61,000 people in Manmunai South and Eruvil Pattu Pradeshiya Sabha.

These facilities were constructed from the financial assistance that is being provided through the European Union Support to District Development Program (EU-SDDP) with a total financial envelope of EUR 60 million. The program aims at supporting the Government of Sri Lanka's thrust for economic and social development in seven conflict-affected districts covering half a million people.

The handover ceremonies were attended by the Assistant Commissioner of Local Governmentof the Batticaloa District K. Sithiravel, the Senior Environmental Officer of Central Environmental Authority for the District, the Divisional and Pradeshiya Sabha Secretaries, the EU Delegation's Program Manager for Infrastructure and Reconstruction Jaime Royo-Olid and UNOPS Program Manager Simonetta Siligato.


Speaking in the context of EU's financial support to Solid Waste Management, European Union Head of Cooperation Libuse Soukupova said, "An efficient solid waste management system is vital to the general prosperity and health of a city. If managed correctly, waste can be seen as a source of income. As raw materials become scarcer and climate change becomes a global challenge, cooperation and innovative thinking becomes key. In this regard, I am thrilled that people of Batticaloa and in particular the local authorities are devising more ways of making efficient solid waste management a priority."

Besides ensuring that environmental safety standards were maintained during the construction, UNOPS also supports local authorities to ensure that the compost produced receives necessary approval, through quality testing, in order for them to sell this as a source of income generation. UNOPS also works closely with the local authorities to build necessary institutional capacity to operate these facilities and solid waste management services in their areas. So far, a total of 85 staff from Manmunai Pattu PS and another 62 staff from Manmunai South and Eruvil Pattu PS have received necessary training on the integrated solid waste management process, including the operation of the compost facilities.


In Batticaloa, under the EU-SDDP program, UNOPS works closely with eight local authorities to establish an efficient and cost effective system to collect, transport and treat all solid waste generated in the district in an environmentally sustainable manner. The solid waste management component of the project assists in construction of infrastructure, capacity building and operational support.


A cluster landfill, four compost facilities and associated structures are the key construction work under the project. Local authority capacity building, implementation of legal provisions and the introduction of transparent and equitable service charges are also integral parts of this project.