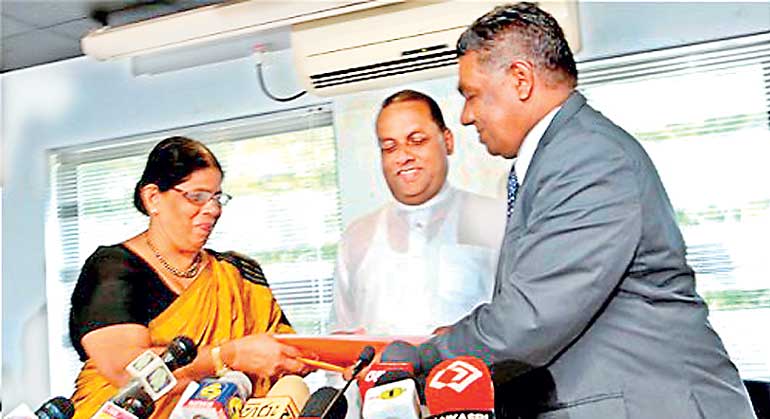 The Ministry of Defense and the Ministry of Fisheries and Aquatic Resources Development entered into multi agreements to prevent maritime crimes and curb illegal activities in the seas around the island.

Secretary to the Ministry of Defense Karunasena Hettiarachchi and the Secretary to the Ministry of Fisheries Mangalika Adhikarigama signed two agreements between the Defense Ministry and the Ministry of Fisheries at a ceremony held Tuesday evening in Battaramulla.

Under the agreement the Fisheries Ministry will seek the assistance of the Sri Lanka Navy (SLN) with the knowledge of the Defense Ministry in preventing human smuggling, drug smuggling and other illegal activities in the guise of fishing as well as fishing using illegal methods. The Navy and the Fisheries Ministry will work together to prevent such illegal activities occurring at sea.

In addition the Navy's assistance will also be sought to educate the fishing community on identifying the maritime sea limits and to prevent fishermen from straying unaware into other territorial waters.

The other agreement was signed between the Commander of the Navy Vice Admiral Ravindra Wijegunaratne and the Chairman of the National Aquatic Research and Development Agency Dr. Anil Premaratne relating to National Hydrography and Nautical Charting in the country.

The agreement will pave the way for Naval Hydrographers to involve in national hydrographic operations and nautical charting activities, hand in hand with NARA.

As a result of the new collaboration the National Hydrographic Office will be jointly headed by the SLN and NARA and will lay a national strategy for hydrography and Nautical Charting in the future.

The new coalition expects to complete surveying of the national charting scheme concurrent with International (INT) scheme within next 2-3 years giving prominence to Electronic Navigation Charts (ENC) which will be produced for national and commercial use ensuring security of the navigation of the shipping community under the International Convention for the Safety of Life at Sea (SOLAS).

Minister of Fisheries and Aquatic Resources Development Mahinda Amaraweera, senior officials of the two ministries, senior naval officers and NARA officials were also present at the occasion.