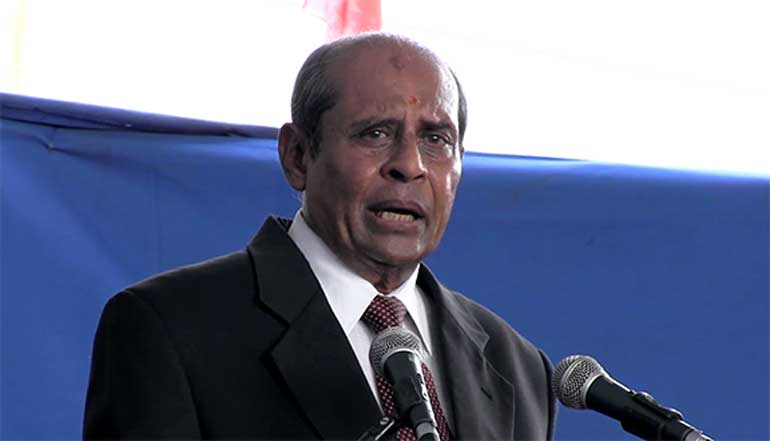 Cabinet Minister Tilak Marapone
The grouping of professionals known as DecentLanka 2015 has written to President Maithripala Sirisena and Prime Minister Ranil Wickremesinghe calling for the immediate removal of Cabinet Minister Tilak Marapone.

Following is the full text of the letter signed by Attorney-at-Law Neville Ananda, Attorney-at-Law Sujeewa Dahanayake, social activist Muditha Karunamuni, journalist Kusal Perera, trade union leader Anton Marcus and Attorney-at-Law Srinath Perera.

We note with much dismay and disgust that President's Counsel Thilak J. Marapone who was legal advisor to Nissanka Senadhipathi, Chairman of Avant Garde the company embroiled in controversy over the floating armoury and heavily loaded with allegations on illegal weapons deals, violation of law on explosives and firearms, on money laundering and bribery is a Cabinet Minister in your Government as a member of your political party brought to Parliament on the National List.

With the 8 January presidential elections that defeated President Rajapaksa labelled and stamped as "dictatorial, nepotistic and corrupt" in your election manifesto and then the defeat of Rajapaksa leadership in August elections, there is no ethical or moral right for you and your Government that was voted in with the promise of a 'New Country in 60 Months' on a five-point program to include a person who accepts he was legal advisor to Chairman of Avant Garde, Nissanka Senadhipathi as an important minister in the cabinet of ministers.

Senadhipathi is a businessman accused of serious crimes and corruption and known to have been very closely associated with the Rajapaksa regime. In fact a report attributed to an Additional Solicitor General Vasantha Navaratne Bandara infers charges can be filed against five persons including Nissanka Senadhipathi and Gotabhaya Rajapaksa for: 1. Unauthorised importation of fire arms to Sri Lanka under the Prevention of Terrorism Act and Fire Arms Ordinance

2. Possession of fire arms and ammunition without valid licenses under the Fire Arms Ordinance and Explosives Act and then

3. Conspiracy, aiding and abetting to commit the above offences.

Although the AG opted to decide otherwise, President Sirisena was compelled to re start investigations on Avant Garde through PRECIFAC under heavy pressure from many quarters.

It cannot be out of ignorance that Marapone was brought to Parliament through the National List and made the Minister of Law and Order and Prison Reforms. In such context, Minister Marapone's own admission he was legal advisor to Senadhipathi after the 8 January "change" for Yahapalanaya and the strong defence made in Parliament as a Cabinet Minister on 4 November on behalf of Senadhipathi then as his client makes your Government culpable in all crimes, violations of law and corruption the Avant Garde and its Chairman Senadhipathi is accused of.

Accused in Parliament itself by many MPs including a Deputy Minister of your Government as well, who said there are many in your Government including Ministers who were well treated by Senadhipathi. We therefore hold you and this Government wholly responsible in breaching the trust of the people and the promise for a cleaner and a saner government for which the people voted your party and its allies to power.

In an effort therefore to at least arrest this slide back to a typical Rajapaksa era, we demand that you immediately remove Thilak Marapone from his ministerial post and all other responsibilities he may hold in your Government.