'Party discipline important'- Bathiudeen
Bathiudeen dissatisfied with Ampara vote count
ACMC leader thanks all who voted for party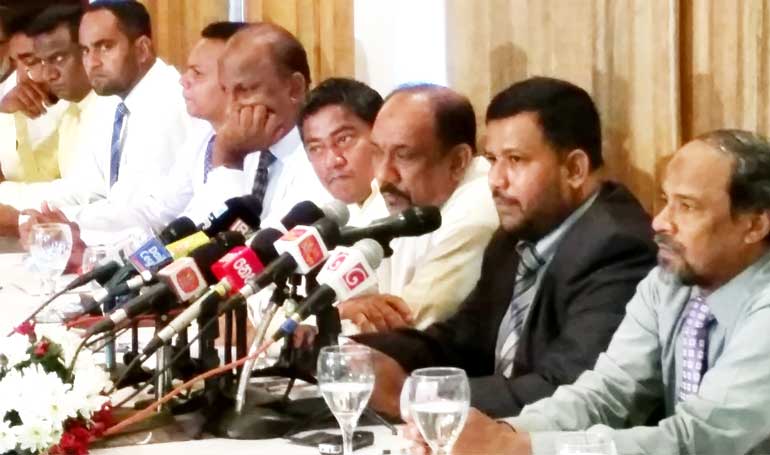 ACMC Leader Rishad Bathiudeen (second from right) addresses the media on 22 August at the Kingsbury Hotel. Seated next to him (far right) is the ACMC's new Secretary L. Shah Jahan
The ACMC has decided to suspend its Secretary and appoint a special review committee to assess his behavior during his time in office.

"The supreme council of the ACMC (All Ceylon Makkal Congress), by a majority decision this morning, tentatively suspended the party's Secretary Y.L.S. Hameed. We are temporarily appointing Dr. L. Shah Jahan in his place," announced ACMC Leader Rishad Bathiudeen.

Bathiudeen was addressing a special media conference held by his party at the Kingsbury Hotel on the morning of 22 August. Joining Bathiudeen were members of the ACMC and newly-elected ACMC MPs such as A.R. Ishaq (MP - Anuradhapura), Ameer Ali (MP - Batticaloa) as well as National List MP M. Navavi.

"I am appointing a four-member committee led by ACMC Chairman Ameer Ali MP to look into the various statements and actions of Y.L.S. Hameed while remaining as the Party Secretary against ACMC and report back to me within the next two weeks for us to decide on the next steps. The committee will investigate whether such behaviour by Y.L.S. Hameed impacted on the party discipline," Bathiudeen said.

"We also thank and praise the Election Commissioner for the high standards maintained during the entire national election season. Though we did not get a seat/MP in Ampara, despite many challenges, we are encouraged by the response of more than 33,000 votes given to us. However, we are not satisfied with the votes we received in Ampara and we believe that we received more there. Therefore, we are considering legal action and a recount request in this regard. We also thank the voters of Sammanthurai who gave more than 14,000 votes and all other voters everywhere who voted for us. The Muslim community of Sri Lanka is still largely backward and we started the ACMC to develop it and we have taken this massive responsibility into our hands. Though we expected eight MPs to be elected we got only four and we expected two National List MPs but we got only one. We pledge that we will not go against the wishes of the voters who voted for us."

The ACMC fielded 10 candidates for seven slots in the Digamadulla District's electorates of Ampara, Kalmunai, Sammanthurai and Potuvil in the Eastern Province. It contested alone in the Ampara District while in the Northern Province it teamed up with the UNP.