Bangladesh High Commissioner to Sri Lanka Tarik Ahsan paid a courtesy call on the Minister of Health and Indigenous Medicine Dr. Rajitha Senarathne in Colombo today. The High Commissioner was accompanied by Minister of Bangladesh High Commission A.F.M. Borhan Unddin.

During the meeting, the Bangladesh High Commissioner sought the support of the Minister in advancing the cooperation between Bangladesh and Sri Lanka in the health sector. Discussion focused on the need for speedy implementation of the two Memoranda of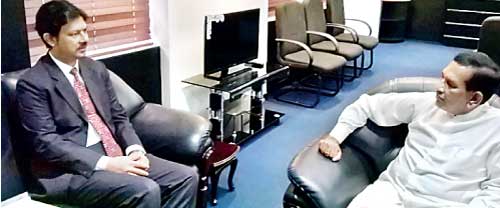 Understanding (MOU) between Health Ministries of Bangladesh and Sri Lanka – on 'Training of Nurses of Bangladesh in Sri Lanka' and on 'Procurement of Pharmaceuticals and Medical Devices from Bangladesh to Sri Lanka'. The Minister assured of his Ministry's full cooperation in this regard.

The Minister thanked Bangladesh for hosting a sizeable number of Sri Lankan students in different medical and dental colleges of Bangladesh. Discussions covered possible ways and means to increase opportunities in this area.

The discussion recognised the need for greater interaction between the concerned ministries and agencies of the two countries at different levels to energise cooperation in the health sector.