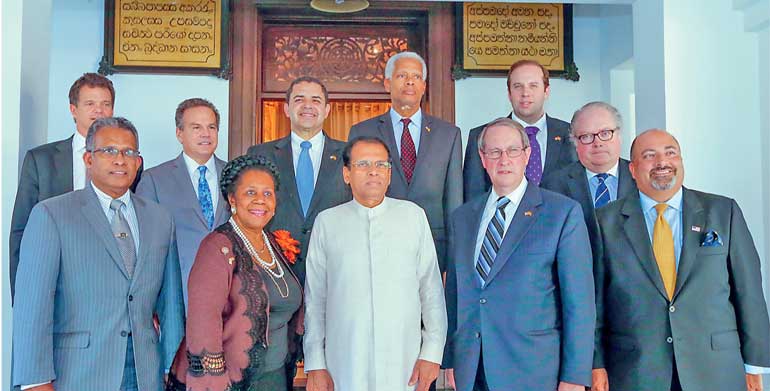 A delegation from the US Congress called on President Maithripala Sirisena last week at the president's official residence and held discussions about the steps to be taken to further strengthen bilateral relations.

The eight-member delegation is the largest US Congress Group to visit Sri Lanka and it included four members from the Democratic Party and four from the Republican Party.

Leader of the delegation, Congressman Bob Goodlatte, Chairman of the House Judiciary Committee, said that the US was happy over the steps taken by the Government to strengthen democracy, individual freedom and reconciliation.

President Sirisena briefed the delegation over the major achievements of the Government in strengthening democracy and reconciliation and said the Government was determined to implement all the required policies and programs despite the hurdles created by extremist groups.

He expressed his satisfaction over the strength of the bilateral relations between the two countries and added that that the Sri Lanka Government was totally committed to further strengthening relations, especially in economic and investment spheres.

President Sirisena said that Sri Lanka had an important responsibility regarding regional security in addition to national security as the country was situated in an important strategic location in the international maritime route. Hence, Sri Lanka takes all these into careful consideration while entering international investment agreements.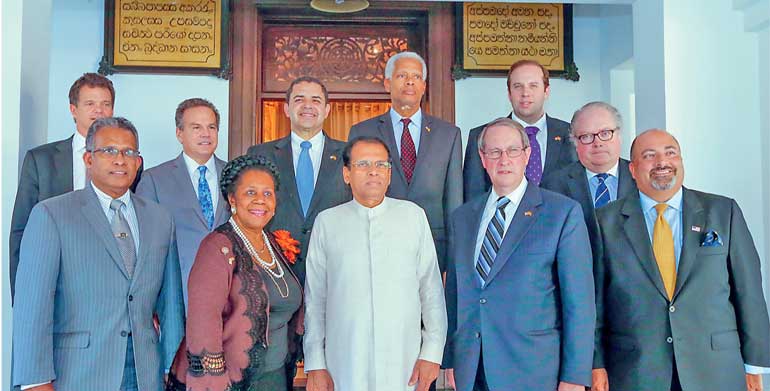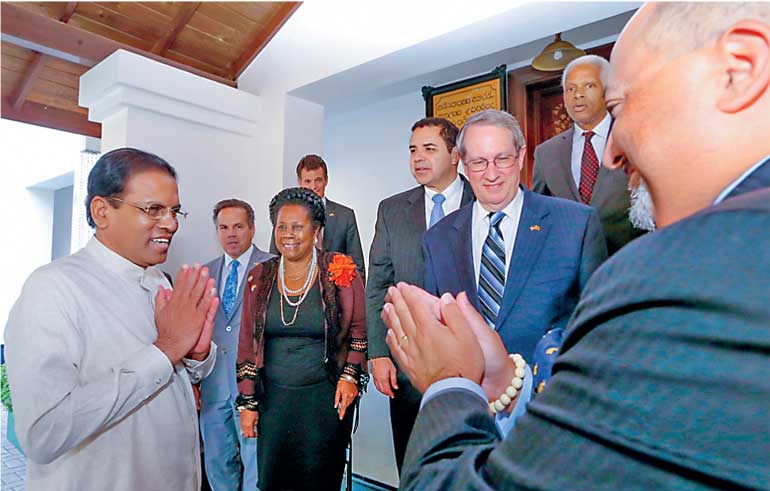 The President thanked the US for resuming training members of the Sri Lankan armed forces and urged them to consider additional training slots for providing technical training to naval officials. He thanked the US for the development assistance provided to Sri Lanka over the years.

Congressman Goodlatte said the US would stand by Sri Lanka in its challenging journey towards economic development.

Deputy Leader Jackson Lee said that the US applauded the successes of the unity government. She asked the President to consider steps required to increase women representation when constitutional reforms were made and the President replied in the affirmative.

The delegation comprised Representative Bob Goodlatte, Representative Jackson Lee, Representative Holding, Representative Cuellar, Representative Smith and Representative Johnson. The delegation was accompanied by US Ambassador Atul Keshap and Sri Lankan Ambassador to the US Prasad Kariyawasam.