Program being implemented by Avant Garde Chairman Nissanka Senadhipathi

Training to include language fluency classes, budget of Rs. 300 m to be spent over two years
By Shailendree Wickrama Adittiya
A vocational training program targeting 5,000 prison inmates was launched at the Welikada Prison premises on Tuesday, with an initial group of 500 inmates enrolled in the program.
The vocational training program is being implemented by Avant Garde Chairman Nissanka Senadhipathi, who said the idea for the project occurred to him during his own time in prison. Having spoken to a number of fellow inmates, Senadhipathi had compiled a report on his findings on the lack of vocational options a prisoner has when their sentence is completed.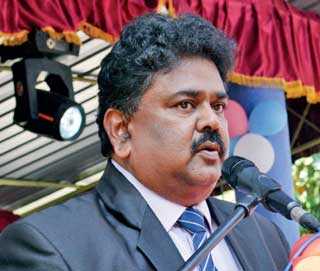 Caption: Commissioner General of Prisons T.M.J.W. Thennakoon
The vocational training will also include language fluency classes as the program aims at giving the inmates the opportunity of training abroad. "The training will be conducted within the prison premises and will cost Rs. 300 million over a period of two years. I've mentioned this in the Cabinet paper submitted on this," Senadhipathi said.
He added that two lecture halls that can hold 300 inmates, 40 toilets, and 30 baths have already been constructed while 300 toilets and 300 baths will be constructed within the next two months.
Commissioner General of Prisons T.M.J.W. Thennakoon also spoke of the importance of the project, saying that the current rehabilitation programs included spiritual, educational, and cultural programs but did not focus on income generation to help the inmate's families as well as the country.
"It is extremely important if these individuals can contribute to national production through a private-public partnership, as the Government alone cannot implement these programs," he said.
According to Thennakoon, there are 25,500 inmates in the prison system in Sri Lanka, of which 15,500 are in remand. There are 9,825 sentenced to prison, with 1,200 sentenced with the death penalty and life imprisonment.
"This is our country's human resource. They can and should contribute to national production," he said, add that close to 3,800 inmate are charged with drug related offences.
"In addition to this, of the 15,500 on remand, 45% are on drug-related offences," he said, emphasising that the vocational training program will be especially beneficial to them as there is a higher chance of those on drug related charges returning to the system.
Pic by Shehan Gunasekara