Points to 93 names in Pandora and 65 names in Panama papers
Calls for impartial probe irrespective of social status of those named
Commends President's order to conduct investigation
Rata Rakina Jana Handa Chairman Ven. Muruththettuwe Ananda yesterday called on the Government to investigate not only Thirukumar Nadesan and his wife Nirupama Rajapaksa, but also all those named in the Pandora and Panama papers irrespective of their social status.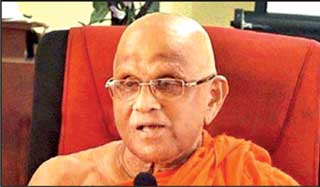 Ven. Muruththettuwe Ananda


He pointed out that 93 Sri Lankans were revealed in the recent Pandora papers and 65 in the Panama papers of 2016.

The former MP Nirupama Rajapaksa and her husband Nadesan are the economic beneficiaries of an offshore company managed by a Singapore trust and are accused of using ill-gotten funds to purchase luxury residences in London, England and Sydney, Australia. Their unaccounted wealth was put at $ 161 million as per the Pandora Papers.

Their names and dealings were among 12 million documents and files exposed in the Pandora Papers, a document detailing secret offshore affairs of 35 world leaders, including current and former presidents, prime ministers and heads of state. The exposé follows an investigation led by the International Consortium of Investigative Journalists (ICIJ) involving 600 journalists from 150 media outlets in 117 countries.

"I appreciate President Gotabaya Rajapaksa's intervention to conduct a probe into Nadesan as exposed in the Pandora papers, but a fair and impartial investigation should also be carried out to all names revealed in these papers," he said.

"By bringing all the alleged persons into the books will ensure rule of law in this country and the repercussions of undisclosed assets and other fraudulent activities."

The duo is closely related to the President and Prime Minister.

Nirupama Rajapaksa was a former Member of Parliament and served as the Water Supply and Drainage Deputy Minister from 2010 to 2015.