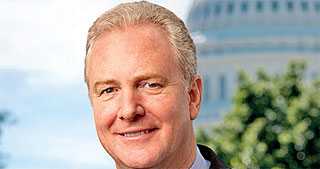 US Senator Van Hollen
---
United States Senator and a former co-chair of the Sri Lankan Caucus in the U.S. House of Representatives Chris Van Hollen has written to Lankan envoy in the United States, Ravinatha P. Aryasinha to allow the burial of those Muslims who have passed away due to COVID-19.

Following is the full text of the Senator Van Hollen to Ambassador Ariyaratne.

I write to you as a former co-chair of the Sri Lankan Caucus in the U.S. House of Representatives and a longtime friend of the people of Sri Lanka. Today, I am also writing on behalf of my constituents, who have expressed serious concerns regarding Sri Lanka's mandatory policy of cremating deceased COVID-19 victims.

As the act of cremating a dead body is forbidden in Islam, this policy has exacerbated the stress and grief in the Muslim community in Sri Lanka. It has denied COVID-19 victims, and their families, of Islamic funeral rights.

Although the Sri Lankan health authorities say buried bodies of COVID-19 victims will contaminate the groundwater, the World Health Organization's (WHO) guidelines permit both burials and cremations. Specifically, the WHO has stated that there is not sufficient evidence to prove that cremation in lieu of traditional burials would prevent the spread of COVID-19.1 Human rights experts from the United Nations (UN) warn that the imposition of cremation as the only option for handling the bodies confirmed or suspected of COVID-19 amounts to a human rights violation. The UN is strongly urging the Government of Sri Lanka to stop the forced cremation of COVID-19 bodies.2

The dignity of the dead, their cultural and religious traditions, and their families should be respected and protected throughout. Therefore, I urge the Sri Lankan government to permit all citizens to choose how they may safely and honorably lie their loved ones to rest.