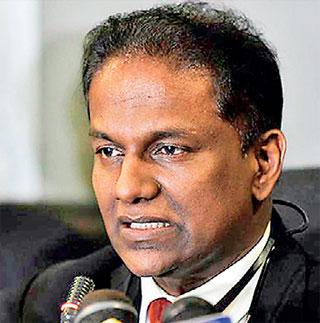 Thilanga Sumathipala
---
Several factions of the United National People's Alliance (UPFA) have opposed the appointment of Thilanga Sumathipala as its General Secretary. On Monday the Working Committee of the Sri Lanka Freedom Party (SLFP) announced the appointment of Sumathipala as the General Secretary of UPFA replacing Mahinda Amaraweera.

Issuing a statement, the Mahajana Eksath Peramuna, Eelam People's Democratic Party, National Congress, Sri Lanka Mahajana Party and the Desha Vimukthi Janatha Party said they will not accept the new appointment. The parties and their representative said they were shocked by the news reports claiming Sumathipala has been appointed to the position as the factions had not been informed of it.

"The factions of the UPFA or the Executive Committee should have been informed according to the party Constitution and prior examples set. Therefore, we would like to declare that we as factions of the party do not accept the appointment of Thilanga Sumathipala as the General Secretary," they said.

Sumathipala was proposed for the post by SLFP party President Maithripala Sirisena at the Working Committee meeting held at the party head office in Colombo. Sirisena handed the appointment letter to Sumathipala at the event. In June, the SLFP removed Amaraweera from all positions in the party for joining the current Government.