---
Says 2 March Gazette now invalid
Convening P'ment will enable laws to be passed and funds to be allocated for COVID-19 fight
UNP says priority should be given to ensure public safety and health
Says while party is for universal franchise and democracy, elections should not be held at cost of the public
Contends testing for COVID-19 is inadequate, calls for expanded testing
The United National Party (UNP) yesterday called for the Parliament to be reconvened to enable necessary laws and funding for preventing the spread of COVID-19 to be passed.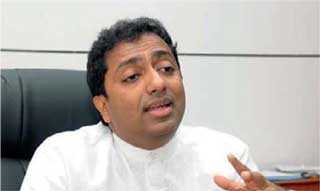 Akila Viraj Kariyawasam


UNP General Secretary Akila Viraj Kariyawasam issuing a press release said that the Opposition is prepared to assist the Government to pass essential laws and funds necessary to prevent the spread of the COVID-19. Kariyawasam stated that the notification of General Election for 20 June renders the Gazette of 2 March, abolishing the last Parliament, invalid.

"This is not the time to move away from democracy for narrow political gains, it could create serious implications for the future. We need to be farsighted in this hour and now work as a country, not as political parties or groups, which will endanger public lives," he stated.

The UNP questions why a date for the elections was set without proper consultations and assurances from health experts and other key stakeholders, arguing that priority should be given to public safety and health during the COVID-19 crisis.

However, the UNP also said that as a strong proponent of the universal franchise elections should be held when the circumstances do not endanger the lives of the public. The party stated that the current testing regime for COVID-19 is inadequate and called on the Government to expand testing for the virus.

The statement by the UNP General Secretary comes in the wake of a Constitutional Committee meeting planned for today by former Speaker Karu Jayasuriya.