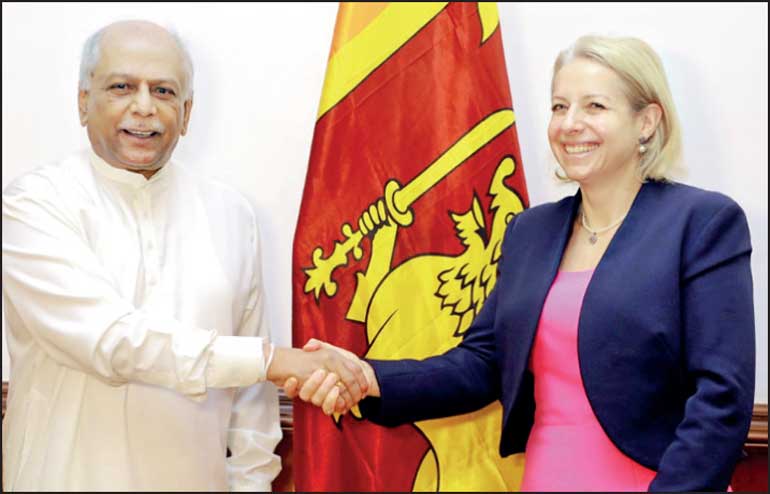 British High Commissioner Sarah Hulton with Prime Minister Dinesh Gunawardena
---
Prime Minister Dinesh Gunawardena and British High Commissioner Sarah Hulton discussed possibilities of enhancing trade and economic ties and attracting more investments from the United Kingdom. Hulton called on the Prime Minister at the Office of the Prime Minister in Colombo today (4th) and they discussed the current political, social and economic issues in Sri Lanka and close cooperation between the two countries.

Hulton said there is potential to attract more British investments in the power and energy sector including renewable energy and hydro power. The Prime Minister said the Victoria Dam is a symbol of British assistance to Sri Lanka and thanked the UK for continuous assistance during the current economic difficulties.

The Prime Minister explained the efforts are being made to form an all-party government and the High Commissioner said her country's expectation is to see the fulfilment of those efforts. She added that if some parties are not willing to join such a unity government, at least they could agree on a National Joint Program to help the country to get over the current economic difficulties.

The British High Commissioner stressed that the democratic right to protest and freedom of expression as well as human rights must be protected. However, she said that acts of violence cannot be condoned and such situations were unacceptable.

Prime Minister Gunawardena explained Sri Lanka's achievements in Sustainable Development Goals and the UK High Commissioner said her country could provide assistance under the Blue Planet Fund created at the COP 26 Climate Change Conference in Paris.

The Prime Minister explained the plans to hold several international events to commemorate the 75th Anniversary of Independence including a tourism pavilion and an investment forum and requested to promote the participation of the United Kingdom.

Secretary to the Prime Minister, Anura Dissanayake and Head of Political Desk of British High Commission Mathew Deith also took part in the event.