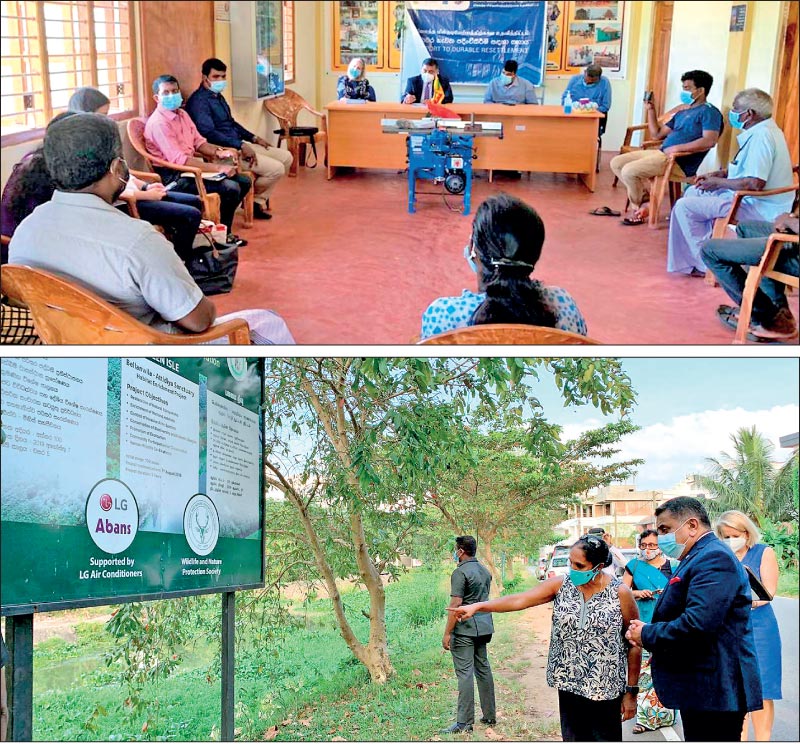 ---
UK Foreign Minister Lord (Tariq) Ahmad of Wimbledon, Minister of State for South Asia, the UN, and the Commonwealth and the UK Prime Minister's Special Representative on Preventing Sexual Violence in Conflict visited Sri Lanka this week to discuss the two countries' shared challenges, including tacking the pandemic and protecting the environment.

During the three-day visit, he saw first-hand opportunities to develop co-operation in trade, investment and financial services, and to highlight the UK's support for human rights.

Foreign Minister Lord Ahmad said: "It was a pleasure to visit Sri Lanka this week, and to meet a wide range of people across different communities to hear about challenges, and discuss shared interests and opportunities for joint cooperation on global challenges such as environmental protection, and building back better from the pandemic."

"Building lasting and inclusive peace in Sri Lanka, based on reconciliation, justice and protecting human rights is key to a stable Sri Lanka, which can attract foreign investment and achieve its economic potential. We are pleased to announce continued support to Sri Lanka through the Conflict, Stability, and Security Fund (CSSF) to address legacies of conflict, promote human rights and build cohesion across all communities through program funding of up to £ 3.7 million in 2022/23."

"The UK and Sri Lanka share great historical and people to people links, and I look forward to building on the partnership we have created between our two countries," Ahmad added.

Lord Ahmad met senior members of Government, including President Gotabaya Rajapaksa and Prime Minister Mahinda Rajapaksa. He discussed the importance of the UK-Sri Lanka relationship and areas of mutual interest such as climate change and economic recovery from COVID-19. The Minister also signed a Memorandum of Understanding (MOU) with the Government on healthcare cooperation, which will improve knowledge sharing, best practices and expertise on healthcare, and develop an ethical and sustainable recruitment program for the employment of Sri Lankan nurses and other healthcare professionals in the UK.

During his visit to the North and Eastern Provinces, the Minister met with local politicians and civil society. He discussed key Tamil and Muslim concerns, local governance and inclusive political engagement participation. He emphasised the UK's support for open, tolerant and inclusive societies as well as freedom of religion or belief.

Throughout his visit to Sri Lanka, Lord Ahmad heard about the essential role civil society plays in promoting respect for human rights and their views on how to make progress on reconciliation and accountability.

Lord Ahmad also met with business leaders to hear about economic developments and challenges, and explore UK support on infrastructure development and financial services. The UK is keen to support Sri Lanka improve its regulatory climate to improve the ease of doing business and further boost the UK-Sri Lanka trade and investment relationship.

Climate change and environmental protection is top priority for the UK, having hosted the UN climate change conference COP26 last year. As part of his visit, Lord Ahmad raised the importance of collaboration to support Sri Lanka's transition to a green and sustainable economy. The UK are eager to continue partnering with Sri Lanka to help them achieve their recent climate and COP commitments, including their move towards clean energy and away from coal.

Lord Ahmad highlighted ongoing work to underpin Sri Lanka's climate adaption and mitigation measures. This included support for nature-based solutions and the blue economy – a new concept that encourages better stewardship of our oceans. The UK will also help facilitate green finance and investment opportunities. All these initiatives will play a key role in delivering the action needed to support the 'Glasgow Pact', agreed at COP26, to accelerate global climate action.

Lord Ahmad met participants from the British Council's Women in STEM scholarships, to hear how their UK higher education qualification has impacted their career opportunities and professional contribution to society.