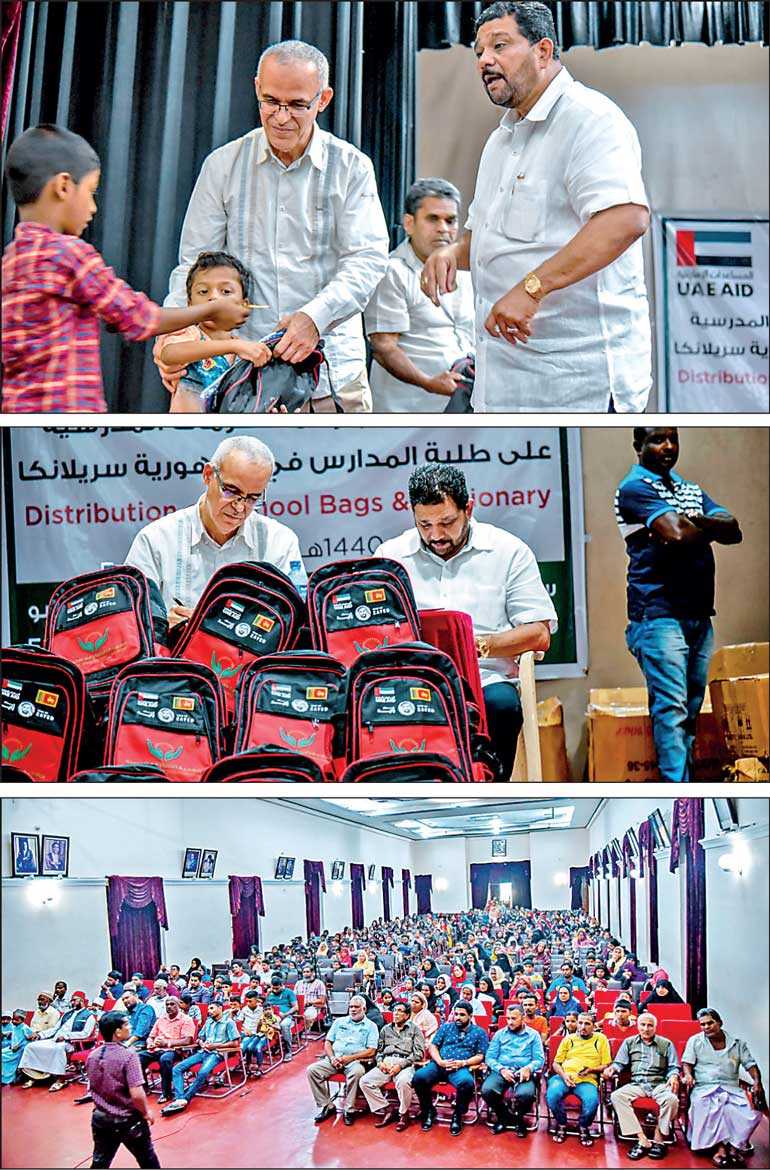 ---
By Mohammed Rasooldeen
The Embassy of United Arab Emirates in Colombo donated school stationery and uniforms to more than 9,000 students from various parts of the island at the New Town Hall on Saturday.

The event was coordinated by Azath Salley Foundation to mark the 100th birth anniversary of Shaikh Zayed Bin Sultan Al Nahyan, the UAE's Founding Father.

The project came under the UAE Aid with donations from Sharjah Charity International.

UAE ambassador Ahmed Ali Moalla gave away the gifts to the children on behalf of his country in the presence of Azath Salley Foundation founder and National Unity Alliance (NUA) President Azath Salley.

Speaking at the occasion, Ambassador Moalla said the book distribution is part of a series of programs organised by his embassy to mark the birth anniversary of the founder of the UAE. He pointed out that it is a global program which covers several friendly countries of the UAE.

He pointed out that a village was set up after the name of Shaikh Zayed Bin Sultan Al Nahyan in Puttalam to serve 46 families in a village in the North-Western capital of the island. He explained that the village has a well-furnished mosque and shopping malls to cater to the interests of the local folks.

"We are interested in serving the people of Sri Lanka irrespective of caste, creed of religion," the envoy said, adding that the mission is interested in doing more welfare work for the people in the island since they are friendly and maintain warm relations with the United Arab Emirates.

The UAE is home for more than 250,000 Sri Lankan workers who are deployed in different employment sectors in various parts of the UAE.