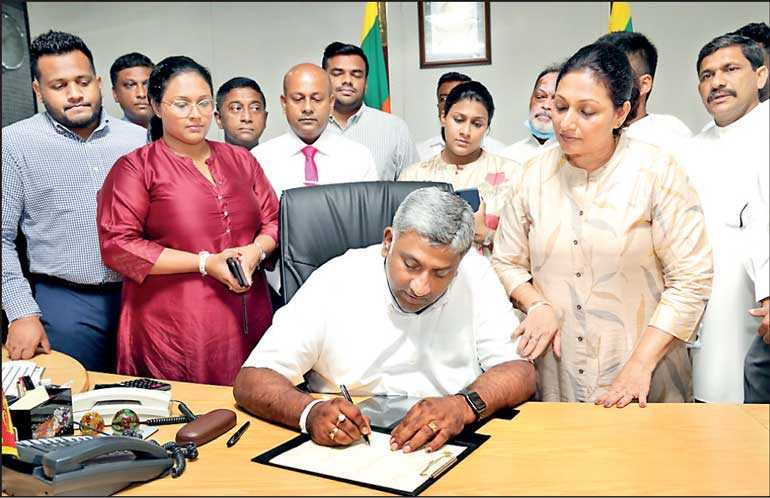 Tourism Minister Prasanna Ranatunga
---
Tourism Minister Prasanna Ranatunga yesterday assured fast-track relief measures to those engaged in travel trade without curtailing the payments decided by Government prior to the election.

He made these remarks after assuming duties at the ministry yesterday. As relief measures, the Government decided to provide an allowance of Rs. 20,000 to tour guides and Rs. 15,000 to tourist drivers affected by COVID-19. However, during the election period, the Election Commission directed the Ministry Secretary to limit the allowance to Rs. 10,000.

Ranatunga directed the Ministry Secretary to action the payments with immediate effect.

"The tourism industry was affected severely due to the COVID-19 pandemic. President Gotabaya Rajapaksa's 'Vistas of Prosperity and Splendour' national policy framework has underscored the importance of the tourism industry and has evolved many factors to strengthen the sector. We took proactive measures and introduced a special program via Cabinet approval to revive the industry," Ranatunga added. Although the initiative suffered a setback due to the election, he assured that it had now resumed with vigour. "The restrictions imposed by the Elections Commission are now over. We will expedite the process and provide Government-approved relief to those engaged in the tourism sector. I have already given the necessary instructions to the Ministry Secretary," Ranatunga stressed.

The Tourism Minister also said the Bandaranaike International Airport (BIA) would soon be open to tourists soon. "As soon as the repatriation of foreign workers is completed, we will reopen the airport. Once the health authorities give the green light to us, we will be able to completely resume operations at BIA within 24 hours," he added.

He said that the Government had given more opportunities to the young members of the Parliament. "The people of Sri Lanka has given a strong mandate to the new Government led by President Gotabaya Rajapaksa and Prime Minister Mahinda Rajapaksa. We look forward to revive tourism post-COVID and strive to improve the aviation industry. We will continue to serve the public that gave us a strong mandate and to live up to their confidence to assure a prosperous and secure nation," he said.