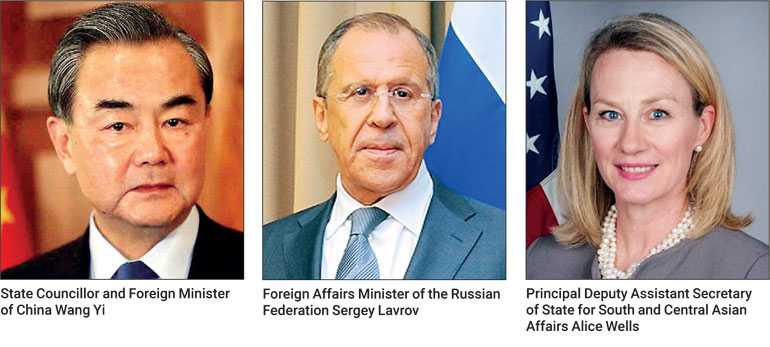 ---
Top officials from China, Russia and the US are set to visit Sri Lanka this week for high level talks with the Government on a range of important issues.

State Councillor and Foreign Minister of China Wang Yi, who is also a top diplomat in the global arena, will arrive in Sri Lanka tomorrow and meet President Gotabaya Rajapaksa, Prime Minister Mahinda Rajapaksa, and Foreign Minister Dinesh Gunawardena.

It's his first overseas journey in 2020, and the highest level interaction so far after Sri Lanka elected its new President and Government. President Gotabaya was initially expected to visit China this week but postponed his tour due to the arrival of multiple officials.

Economic cooperation under the Belt and Road Initiative, education, security and investment matters are expected to be discussed. Yi and the top representatives of the Sri Lankan Government may also discuss international issues, including matters of the United Nations, and the tensions in the Middle East.

Foreign Affairs Minister of the Russian Federation Sergey Lavrov will also be in Colombo this week and is scheduled to hold a media briefing in Colombo following a meeting with heads of states and high-level officials, according to the Ministry of Foreign Relations.

Meanwhile, top US diplomat Alice G. Wells is set to hold a series of bilateral talks with top government officials, politicians, civil society representatives, and other parties during her visit.

Principal Deputy Assistant Secretary of State for South and Central Asian Affairs Alice Wells will travel to Sri Lanka tomorrow, according to the US Department of State.

During the two-day visit to Colombo, the US top official will meet with senior Government officials and members of civil society to discuss a range of bilateral and regional issues, including shared interests in a free and open Indo-Pacific region that fosters prosperity, democracy, justice, and human rights.

Principal Deputy Assistant Secretary Wells will then travel to New Delhi, India, from 15-18 January, to attend the Raisina Dialogue. She will also meet with senior government officials to advance the US-India strategic global partnership following the success of the 2019 US-India 2+2 Ministerial Dialogue, and will discuss topics of mutual interest with members of the business community and civil society.

Finally, Principal Deputy Assistant Secretary Wells will travel to Islamabad, Pakistan from 19-22 January. She will meet with senior government officials and members of civil society to discuss issues of bilateral and regional concern.