Says ban lifted to merely gain investments and support
Asks Govt. to give political solution to gain confidence of diaspora
---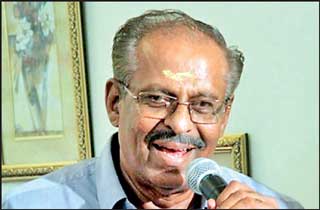 Illankai Tamil Arasu Kachchi (ITAK) Leader Mavai Senathirajah
Illankai Tamil Arasu Kachchi (ITAK) Leader Mavai Senathirajah said Tamils will only invest in Sri Lanka with
confidence if the Government of President Ranil Wickremesinghe is able to provide an acceptable political solution to the ethic problem relating to the country's Tamil people.

Commenting on the Government's decision to delist six organisations and 361 persons of concern from its terror list, Senathirajah said while it is commendable that the ban has been lifted, it can be assured it has done so in a bid to attract investments and financial assistance to the now ailing country.

It can be assumed that the Government removed the ban on diaspora organisations with a view to getting investments and financial assistance to Sri Lanka. "The Government should also provide a proper response to the major issues of the country such as the ethnic problem and the political solution for the Tamil people. Only then will the Government get the help it expects from the diaspora Tamils," he said.

Meanwhile, Tamil National People's Front General Secretary Selvarajah Kajendren has urged the Tamil diaspora to refrain from contributing to Sri Lankan financially until a solution is provided to Tamil through a federal system of Government. Kajendren said the Government is now attempting to attract those of the diaspora because it is facing a severe financial crisis.

"Ranil Wickremesinghe's Government's aim is to recover from the economic crisis and avoid the international pressures at the upcoming UNHRC sessions," he said. He requested members of the Tamil diaspora abroad to not fall trap to the Sri Lankan Government.