By Maneshka Borham
---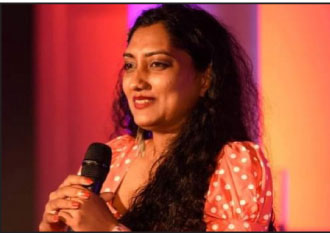 Nathasha Edirisuriya
---
Stand-up comedian Nathasha Edirisuriya who was arrested by the Criminal Investigations Department (CID) yesterday over making alleged derogatory comments about the Lord Buddha has been remanded until 7 June.

Edirisuriya was remanded on the orders of Colombo Fort Magistrate, Thilina Gamage after she was produced before the court by investigating officers last evening.

Her family is expected to file a complaint with the Human Rights Commission of Sri Lanka (HRCSL) shortly requesting that her safety is assured while in detention after threats of harm were made against her by various individuals and groups, particularly over social media platforms. Civil society groups are also gearing up to pressurise the authorities to not file charges against her under the International Covenant on Civil and Political Rights (ICCPR) Act which the Government has been accused of using as a tool of repression.

Edirisuriya came to the limelight after a performance by her at a comedy event titled 'Modabhimanaya' in April went viral over comments she made about the Lord Buddha and Buddhist Girl's Schools during the act. The comments drew the ire of certain persons and ultra-nationalist groups followed by calls for her arrest. The groups even demanded the arrest of stand-up comedian Hasalaka Thushara, the organiser of the event. However, Edirisuriya and Thushara later issued a public apology and had also taken steps to take down the offending video.

Nevertheless, the stand-up comedian was arrested at the Bandaranaike International Airport (BIA) where she was scheduled to board a flight to Singapore.

According to Police Spokesman SSP Nihal Thalduwa, the 32-year-old suspect was arrested based on a complaint lodged by the Commissioner General of Buddhist Affairs. Thalduwa confirmed the complaint was made directly to the IGP C.D. Wickramaratne. "At least eight other complaints by Buddhist clergy and other organisations were also made against the suspect following which the Cyber Crimes Division made the arrest," he said.

The Police Spokesman requested the public to refrain from making similar statements that can lead to religious and racial disharmony in the country. "Everyone is entitled to their own opinions about religions. But statements must be made in a manner that does not harm the sentiments of others," he said.

"There are offences in the penal code or under the International Covenant on Civil and Political Rights for such acts. The investigating officers will file relevant charges accordingly," he said.