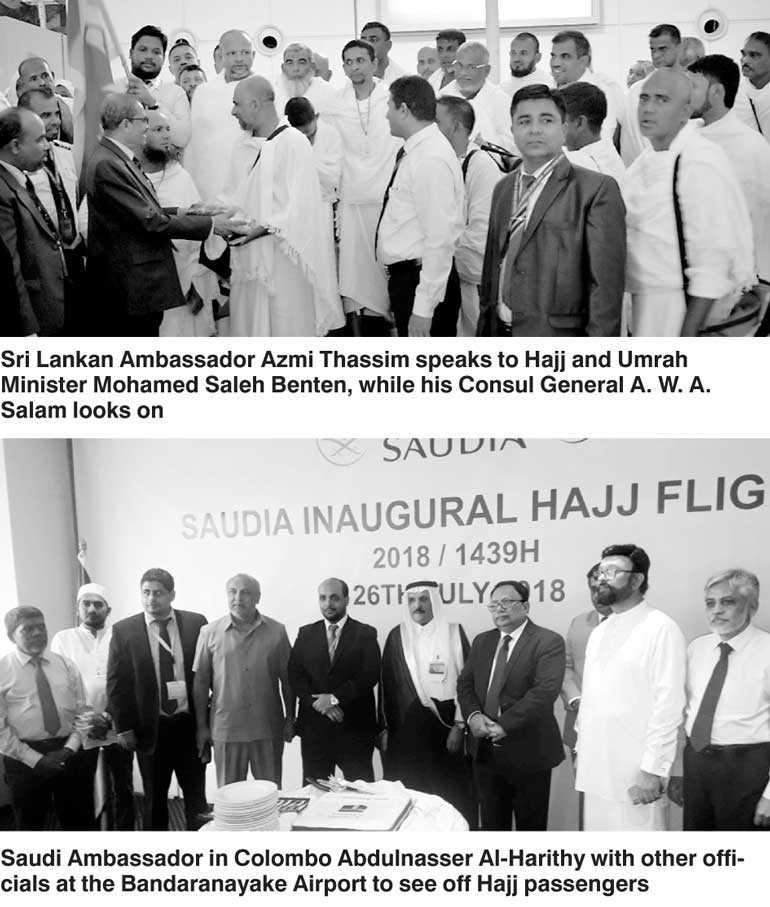 By Mohammed Rasooldeen from Riyadh

Sri Lankan Ambassador in Saudi Arabia Azmi Thassim said on Tuesday that the Sri Lankan Hajj operations are being carried out in full swing because of the support extended by the Saudi and Sri Lankan governments.

The envoy was speaking to Daily FT following his meeting with the Hajj and Umrah Minister Mohamed Saleh Benten in Jeddah on Monday. Sri Lankan Consul General in Jeddah A. W. A. Salam was also present during the discussions with the Saudi Minister.

The Ambassador said that a charter flight ferrying Hajj pilgrims from Sri Lanka arrived in Jeddah by Saudi Arabian Airlines early last morning. This year, a total of 3,000 pilgrims are expected to arrive from Colombo by different airlines and the Saudi Arabian Airlines would carry a majority of the passengers from the island.

On Thursday, the pilgrims were seen off in Colombo by Saudi Ambassador in Colombo Abdulnasser Al- Harithy, Minister Rauf Hakeem, Minister of Muslim Religious Affairs and Posts Abdul Haleem, Deputy Minister Ali Zahir Mowlana, and Managing Director of Traveller Global Rizmi Reyal, and Saudi Arabian Airlines Manager in Colombo for Sri Lanka and Maldives Imad E-Alsubhi .

A group of 101 Sri Lankan Hajjis also came on Tuesday by regular flights operated by Saudi Arabian Airlines. The group was received by Sri Lankan Consul General in Jeddah A. W. A. Salam and his team of officials at the airport.

The arriving pilgrims from Colombo were given mobile SIM cards organised by the Sri Lanka consulate in Jeddah with the cooperation of the STC. The new SIM cards were pre-arranged in Colombo and were sold at a concessionary rate which included data facility and free calls on conditions.

In terms of a MoU entered into between the Gulf Holding Business Services EST and the Consulate General of Sri Lanka in Jeddah, arrangements have been made to collaborate on providing 3000 SIM cards to enable Sri Lankan Hajj pilgrims to communicate with their fellow pilgrims free of charge and to contact their families in Sri Lanka at a concessionary rate of SR 99 per minute. In addition, the pilgrims are also given a 500 MB free data facility. The Saudi Telecom Company agreed to charge a nominal fee of SR 11.50 for a SIM card and a compulsory initial credit of SR 20.

The consulate has also deployed a team at the Hajj terminal of the Jeddah Airport to welcome Sri Lankan pilgrims. The officials offer refreshments to the pilgrims on arrival and attend to their needs until they leave for the holy cities. Four teams have been formed in Mecca, Jeddah, Minah and Medina to assist the pilgrims. In addition to the mission's staff, volunteers also would help the pilgrims in Mecca, Medina and at the Hajj terminal.