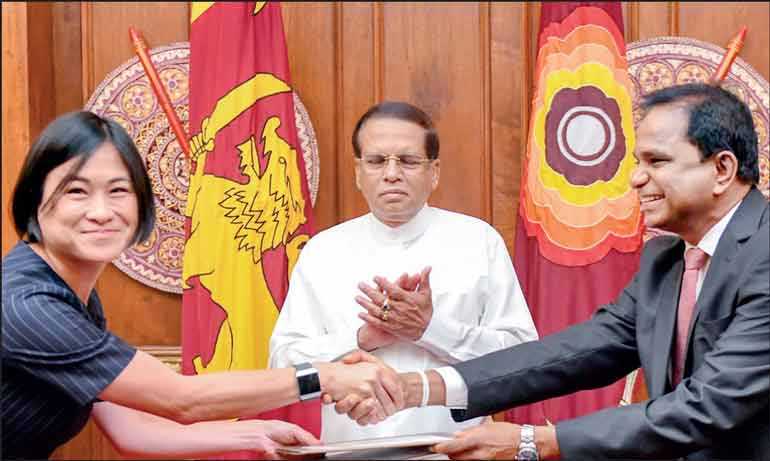 ---
The Government yesterday inked an agreement with the Government of Canada to construct a floating solar power generation plant in the Maduru Oya Reservoir in the Mahaweli Economic Zone.

A Co-operation Agreement was signed between the Ministry of Power and Energy, and Business Development and the Canadian Commercial Corporation (CCC), Canada's government-to-government contracting organisation, to construct a 100 megawatt (MW) in the Maduru Oya reservoir on Tuesday in the presence of President Maithripala Sirisena at the Presidential Secretariat.

Ministry of Power and Energy Secretary Dr. Suren Batagoda and Canadian Commercial Corporation Asian Region Director Yvonne Chin signed the Cooperation Agreement before President Maithripala Sirisena.

As a measure to reduce generation of costly thermal power, the Sri Lankan Government has planned to set up floating solar power generation plants on the reservoirs in the Mahaweli Economic Zone.

The Cabinet of Ministers had given approval to implement the construction of a 100 MW of floating solar power plant as an integrated project joint venture of the Sri Lanka Mahaweli Authority, the Ceylon Electricity Board and the Sri Lanka Sustainable Energy Authority. President Maithripala Sirisena, and MP Ravi Karunanayake in his capacity as the Minister of Mahaweli Development and Environment and Minister of Power, Energy and Business Development, have jointly proposed to establish a joint venture with the Canadian Solar Institute to implement the project as a storage project to store solar energy with the use of solar panels in accordance with the proposal made by the Canadian Government.

Accordingly, floating solar power plants will be built in several parts of the country, expecting to obtain 50% of the country's electricity requirement through renewable energy sources by the year 2030. The first phase of the project will be implemented centring the Maduru Oya reservoir in the Mahaweli Economic Zone, in collaboration with the Canadian Solar Institute, as a storage project to store solar energy with the use of solar panels.

Approximately 500 acres of the reservoir will be used for the project, which is less than 4% of the total extent of the reservoir. The project is to be completed expeditiously and the first 10 megawatts generated by the end of November. The construction to generate the total capacity of 100 MW will be completed by the end of September 2020.

Prime Minister Ranil Wickremesinghe, Minister Ravi Karunanayake, Mahaweli Development and Environment Ministry Secretary Anura Dissanayake, officials from the Ministry of Power and Energy, the Canadian Ambassador to Sri Lanka David McKinnon and Canadian Commercial Corporation representatives were also present.