Committee to be finalised this week
Report from expert committee expected in two months
Speaker expects elections by mid-January
Fresh Bill needed if Govt. wants to revert to old system, says Elections Commission Chairman
Speaker Karu Jayasuriya has put forward four names to be appointed to the expert committee to revise the report by the Delimitation Committee for the delimitation of provincial council electorates after it was defeated in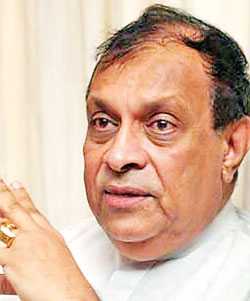 Parliament last Friday (24 August).

The office is now in the process of obtaining the consent of the individuals to be appointed to the committee, Jayasuriya's office confirmed to Daily FT.

The committee to be appointed by Jayasuriya will be chaired by Prime Minister Ranil Wickremesinghe and comprise non-political intellectuals who possess knowledge in politics, the Speaker's Office said in a statement. "If individuals nominated by the Speaker consent to be appointed, Jayasuriya is expected to announce the committee in the coming days despite plans to travel overseas this week," the Spokesperson for the Speaker's Office confirmed.

The committee appointed by the Speaker can only revise the report given by the Delimitation Commission, Elections Commission Chairman Mahinda Deshapriya said.

Once appointed, the committee is expected to submit their recommendations within two months, he said. Accordingly, if the recommendations of the committee are put forward by mid-October, Provincial Council Elections are expected to be held in January next year.

"If the Government wants to hold elections under the old system, then they will have to bring a new Bill to Parliament on the matter," Deshapriya told Daily FT.

Jayasuriya in his statement said that the decision to appoint the committee was taken following extensive discussions with party leaders and chairpersons of the Elections Commission and the Delimitation Commission.

At the party leaders meeting on 23 August the Speaker discussed the contingency measures to be taken in the event the delimitation report was defeated in Parliament. The report of the Delimitation Committee for the delimitation of provincial council electorates was voted down by 139 parliamentarians, including the Provincial Councils, Local Government and Sports Minister Faiszer Musthapha, who presented the report to Parliament. In a tragic turn of events, Prof. Shahul H. Hasbullah, a member of committee which authored the report, died of a heart attack in Jaffna on 25 August just hours after the vote.