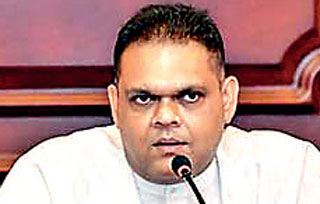 State Minister of Finance Shehan Semasinghe
---
State Minister of Finance Shehan Semasinghe yesterday stressed the importance of putting economy first before politics given the crisis and dire status of the country's finances.

"The Treasury is in a serious situation today and there is no suitable environment for politics in the face of the economic crisis in the country," Semasinghe told journalists in Anuradhapura in response to questions regarding the local Government polls.

"Many people express their opinions about the current economic situation of the country out of ignorance. If we talk to the people today, the need of the people is to create a necessary economic background for them to live a good life. They have neither time nor ability to pay attention to politics in this current situation," the State Minister opined.

"On the other hand, we are in a serious situation today regarding the Treasury. Because there are some expenses that must be done in our country. Even mandatory payments such as payment of salaries of Government employees, mandatory payment for social welfare, payment of gratuity to retired senior citizens etc. are challenging. Therefore, in the economic reforms of our country, a background is being created that can take the country to a better path," he emphasised.

According to the State Minister the downfall in the economy has not fully stabilised yet. Even though the economy is operating as normal, it seems that those who express their opinions without understanding the extent and breadth of this crisis. Therefore, this is not a period where there is a suitable environment for politics. More than that, it is necessary to prepare a program for the challenges faced by the people in leading their normal lives.

He also said that the Government was not in a position to interfere in postponing or holding of the election. It is assigned to the Election Commission which should consult with the relevant parties and take a decision on whether or not to hold elections.

"Even though it is said that the Government is working to postpone the election, the bill that was brought to regulate the election expenses was highlighted in the parliament as one of the things that we will use for that purpose. If any group considers this as an obstacle to conduct the election, if it is shown as an obstacle, see the vote of the parliament that day. On that day, the largest number of people's representatives did not come to vote in the opposition. How can we reconcile these two arguments? One of the reasons is that the period we are going through is a very difficult period," State Minister Semasinghe added.